School board selects doctor to fill vacancy
The Lansing School Board turned to a familiar face this week to fill a vacant seat on the panel.
The board Monday night voted unanimously to select Dr. Richard Whitlow to fill the unexpired term of Karalin Alsdurf, who resigned last month prior to moving out of the district. Coincidentally, Alsdurf was appointed in August 2004 to fill a seat vacated by board member Michelle Fattig-Smith, who had moved out of the district.
Whitlow, who previously served on the board from 2001-2003, was selected from a field of four candidates. Other applicants were Stuart Lyon, who had served on the board from 2001-2005; Joe Walden, a retired colonel; and Brian Duncan, an officer with the Lansing Police Department.
Each of the candidates submitted to the board answers to a questionnaire and stood before the board Monday night to answer questions.
Whitlow, who practices internal medicine, noted his past board service and visits to the district classrooms, where he assists with science and math projects.
Asked by board member Brian Bode why he wanted to return to the board, Whitlow said "it's a good time." But he also noted several challenges confronting the board, including overseeing construction of a new elementary school and high school auditorium and putting them in operation.
Those bond issue projects, though, don't represent the biggest hurdle for the district, he said.
"I think the biggest challenge is trying to maintain the level that the district has been at with the growth of the community. I think that's going to be a real problem that the board's going to have to be able deal with, in terms of the students that are coming," Whitlow told the board.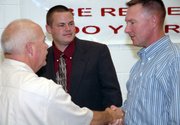 "We've got great kids and we've got great teachers, and maintaining what we have is probably going to be harder than improving on it, he said.
Whitlow was the lone applicant to gain a nomination from the board.
Board member Craig Gephard apologized to the four candidates, all of whom he said had "excellent qualificiations."
"It's a very difficult process, and we encourage you to come back in the future" to seek service on the board, he said.
Whitlow, who remained in the audience for the duration of Monday's meeting, is expected to take his seat at the board's Aug. 14 meeting. His seat will be one of four on the board that will be up for election in April 2007.