Witness describes
U.S.

73 encounter that preceded fatal head-on wreck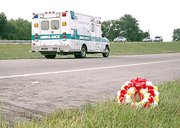 Amy Malsbury had just left Lansing on Sunday night, when she was startled by what she saw on U.S. Highway 73.
Headlights were coming at her from a vehicle traveling the wrong way in the southbound lanes of the divided highway.
"The vehicle was in the left (east) lane while I was still in the right-hand lane," Malsbury recalled Monday. "As the vehicle got closer, I began to honk my horn. The vehicle then swerved at me, crossing over into my lane, then swerved back."
Malsbury drove on after just missing being hit.
Moments later, however, disaster would not be avoided.
The Kansas Highway Patrol said the pickup traveling the wrong way struck a southbound sport utility vehicle about 9:20 p.m. Sunday. The crash left two people dead, including the pickup driver.
The pickup's driver, James A. Norwood, 44, Leavenworth, and John Felton Bridgewater, 28, Kansas City, Kan., were pronounced dead at the scene, a patrol dispatcher said.
According to the patrol, the accident occurred at milepost 22, which is just south of the Leavenworth County-Wyandotte County line at Marxen Road. The posted speed limit is 65 mph.
Bridgewater was a passenger in the Ford SUV driven by 28-year-old Valerie Nearing of Lansing. Nearing's car, the patrol said, was in the westernmost lane of the highway when it was struck head-on.
Both Nearing and another of her passengers, Marcus Hullaby, 23, Kansas City, Mo., had to be extracted from the vehicle by emergency workers and were transported via air ambulance to Kansas City-area hospitals, the patrol said.
Trooper Jesse Johnson, who worked the accident, said the impact caused Bridgewater, who wasn't wearing a seatbelt, to fly from the back seat into the front seat, hit the dashboard and then pin Nearing into the vehicle.
Nearing was taken to University of Kansas Hospital, in Kansas City, Kan. Bob Hallinan, a hospital spokesman, said Wednesday morning that Nearing was listed in fair condition.
The patrol said Hullaby was taken to St. Luke's Hospital in Kansas City, Mo., but a spokesman there said she could find no record of Hullaby being treated there.
The patrol said Norwood was not wearing his seatbelt either. Johnson said Nearing was wearing her seatbelt and said though he wasn't certain he thought Hullaby had been wearing his seatbelt.
It was the second incident in at least six weeks in which a vehicle was reported going the wrong way on the stretch of highway.
In late May, police arrested a man for driving under the influence after he was found driving northbound in the southbound lanes of the highway. He was stopped in the city limits was not involved in an accident.
Johnson said toxicology tests had been performed on Norwood, but a final report on the accident, which could indicate whether alcohol was a factor in the wreck, is not expected for another 10 days to two weeks.