Zone 1 Stunners
Reds run the table on way to Class A Zone 1 Tournament title
Wathena — Forget for a moment that the Lansing Reds entered the Class A Zone 1 Baseball Tournament with 23 losses and just four wins.
Forget that they cruised to comfortable victories in their first two games of the tournament to advance to the finals.
No matter what you've done in the past, there are some things that simply are unacceptable for any baseball team. One such thing is blowing a 10-run lead. But that's what Lansing nearly did Tuesday night against the Atchison Junior A's in the title game.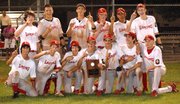 Thankfully for the Reds, Peter Gibson refused to let that happen. Gibson took the mound in relief after his team's lead had been whittled to three. An error and a passed ball on strike three led to two more runs scoring, but then Gibson slammed the door hard. The Reds rallied around Gibson, gave him four more runs of support and won the Zone championship 16-11 at Wathena City Park.
"The kids just kept battling and kept fighting," Reds coach Troy Andrews said. "Sometimes you win ugly, and those are the times you've just got to keep going. You can't get down on your teammates or anybody, and they didn't tonight. They picked each other up and just stayed in it."
The problem was Lansing shouldn't have had to win ugly if it'd just maintained its focus. It shouldn't have been surprised by Atchison's resiliency after the Junior A's rallied from seven runs down to shock Doniphan County 9-8 in the play-in game right before the finals.
The Reds looked focused for the first 2 1/2 innings as they built a double-digit lead. Taylor Majure led off the game with a double and then scored on Gibson's single. Kris Hernandez was hit by a pitch. Gibson scored on a passed ball. Elias Moya reached on an error as Hernandez scored. Kyle Hutchison reached on a fielder's choice. Paul Sargent walked. Hutchison scored when Dylan Delich reached on an error. Sargent then scored when Cameron Trowbridge walked. After a half-inning the Reds already led 5-0.
Photo Gallery
Reds win Class A Zone 1 Tournament
The Lansing Reds knocked off Atchison 16-11 to win the Class A Zone 1 Baseball Tournament at Wathena City Park.
The Reds plated another run in the second inning and added four more in the third - capped by a three-run triple by Hutchison - to take a 10-0 lead.
That's when the Lansing train began to derail. Starting pitcher Shay Goodnature worked a no-hitter through the first two innings, but he began to overthrow in the third and four of the six batters he faced before being pulled. Majure came on in relief and walked the next two. Then Hernandez took the mound and closed out the inning with a strikeout and a ground out. Lansing's lead had been whittled to 10-4, but the Reds struck back with two runs in the top of the fourth as Hawkins Hall and Trowbridge both singled and scored.
Ahead 12-4, the lead still wasn't safe. Atchison strung together three straight hits, a walk and a three-run homer to pull within 12-9 before Hernandez was pulled.
Gibson took the mound and did his best to cool Atchison's momentum. He forced the first batter to hit a ground ball, but a throwing error allowed the runner to reach base. Gibson struck out the next batter, but he reached base anyway on a passed ball. Both runners eventually scored, but Gibson struck out two more and forced an infield fly to get out of the jam.
At 12-11, the Reds' lead had almost completely evaporated.
"You know how the first two games of the tournament went, I think they were just seeing that same flow and felt like were just going to go ahead and run-rule them, and then all of a sudden, woah, they battled back," Andrews said. "Atchison and their kids, they're gutty. They're down 10-nothing and they're battling back."
Fortunately for Lansing, the Reds didn't allow their frustration get the best of them. Instead, they dug deep and responded. Sargent earned a one-out walk in the top of the fifth and later scored on a single by Hall. In the sixth, Gibson smashed a double to the wall in left, Hernandez reached on a fielder's choice. Gibson scored on a sacrifice fly by Moya and Hernandez scored on Hutchison's double off the left-field wall. Just like that, the lead was up to 15-11. Hall added an insurance run in the top of the seventh when he reached on a fielder's choice and scored on Gibson's bloop single to left.
"Thank God we were still scoring runs along with them," Andrews said. 'That's the only thing that saved us. We still had good at-bats and we scored runs and we still had base runners, so we were able to stay ahead of them."
With the bats still firing, Gibson took care of the rest. He faced just 11 batters in the final three innings and didn't allow a hit.
"I felt like I had to step up and be a leader in this game to come out with a win and take us to state," Gibson said of his performance.
Gibson said he was grateful that his teammates provided him extra run support during the final three innings.
"I was proud of them. I knew they had it in them," he said. "I knew we had it in us. We just played like a team, came together at the end and came out with the win."
For the Reds (7-23), the Zone title served as validation that their difficult summer schedule paid off.
"It means a lot to us," said Hall, who went 2-for-3, scored two runs and recorded the final out of the game. "We don't care about any games we lost anymore. We're just starting over again. We feel like we've won all of our games now."
The Reds originally were scheduled to play in the 16-and-under Class AA state tournament this weekend at 3&2. Now they won't. Instead, they'll take the weekend off and then prepare for the American Legion Class A State Tournament July 20 in El Dorado.
"I've been telling them all year, you play that tough of a schedule and it's going to pay off in the end, and it finally did," Andrews said. "They got something for all that pain and suffering that they had to fight through and battle through. Now, when we go to the state tournament, anything can happen."