Juvenile arrested in bomb scare
A juvenile taken into custody last week for questioning about burglaries has admitted to placing a device in a mailbox that caused a bomb scare last month at a mobile home park in Lansing.
Lt. Ben Ontiveros said the 14-year-old's parents brought the boy to the Lansing Police Department last week for questioning after they had become suspicious of the boy's behavior.
"During the course of the interview with an officer, the juvenile more or less told the officer of his involvement with the suspected explosive device," Ontiveros said.
On June 21, police cordoned off access to the Wiley's Wild Woods Mobile Home Park, 921 S. Main St., after somebody said they were picking up mail from the community box when they noticed something suspicious: wires protruding from one of the boxes.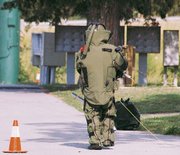 Officers blocked access to and from the park, evacuated homes closest to the mailboxes, at the northwest end of the mobile home park, and called in the Leavenworth Bomb Squad, which includes members of the Leavenworth County Sheriff's Office and the Leavenworth Police Department. Assisting at the scene were members of the Leavenworth County Fire District No. 1.
An FBI agent who specializes in explosive devices also arrived at the scene.
Authorities got an up-close look at the device using a video camera onboard a robotic machine controlled by the bomb squad. They determined it was too risky to have the robot remove the device and decided to detonate it.
Ontiveros said the youth lived in the neighborhood of the mobile home park.
The youth didn't say whether he acted alone, Ontiveros said, but from the information police gleaned in the interview it appears the device was not a bomb.
"I don't believe it was an explosive device," Ontiveros said.
The boy was arrested and taken to the Juvenile Detention Center. Police said they forwarded reports to the Leavenworth County Attorney's Office recommending charging the boy in two Lansing burglaries and the bomb scare.