Jaqua closes out summer in style
Kansas City, Kan. — In about four weeks Lauren Jaqua will begin her distance running career on the Lansing High cross country team.
The freshman-to-be didn't prepare for it by logging big miles on the city sidewalks or the LHS track, though. Instead, she ran every Friday with the LHS runners and spent the rest of the week in the swimming pool with the Leavenworth Riptides.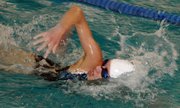 "It's helping me with my cardio," Jaqua said, referring to the fact that swimming made her lung capacity stronger for handling distance running. "Swimming is always good for helping my running. I'm keeping conditioned over the summer and not just pigging out on the couch."
A little pigging out might not be a bad idea for Jaqua, though. After all, she might need the extra caloric intake to replenish the energy she burned off while swimming with the Riptides. She didn't just swim. She swam fast.
Jaqua closed out her swimming season at the league championships Friday at Turner High School, and she did it in style. She placed first in the 14-and-under girls freestyle in 34.63 seconds. She also was second in the individual medley, second in backstroke, fourth in breaststroke and sixth in butterfly. In addition, she teamed with Nikki Gee, Kassidi Livingston and Ravyn Teeters to place third in the medley relay.
Jaqua said she was pleased with all of her successes, but she was most proud of winning the freestyle.
"I knew I had a good shot, but I also knew I had some real tough competition," she said. "I came prepared."
Despite all of her successes, there was one obstacle Jaqua was unable to overcome. She finished second in the overall points race in her age group for the third year in a row. For the second straight year she missed top honors by three points.
"Three points!" Jaqua said, shaking her head. "I'm disappointed because throughout the season I've done really well and I wanted to end up with the overall (points lead). But you can't win all the time."
Jaqua may have been disappointed, but Riptides coaches John and Kelli Denney had nothing but praise for her.
"One of the things that impresses me about Lauren is she's got a good attitude about it, because this is three years in a row that she's lost to a swimmer that swims year-round, and we're talking about two, three or four points," John Denney said. "Lauren only swims six weeks a year. If she were to swim year-round and not do all of the other sports and activities that she does, I'm sure she probably would've won this year. But she just does this for recreation."
Jaqua's most serious sport is running, and the Denney's said they have a soft spot in their hearts for the sport. Their daughter used to run cross country, so the Denney's said the hope to watch their star swimmer run this fall.
"We would like to," Kelli Denney said. "We hope to get out there to see her."