Keeping it green
Even in 100-degree heat, country club's superintendent is master of the grass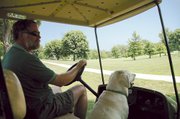 It's a demanding master, grass.
And catering to the needs of the turf - and sometimes the golfers - is more than a full-time job for Michael Boaz, superintendent of Leavenworth Country Club. During the summer season, he averages nearly 65 hours a week protecting the grass amid 100-plus degree weather, blazing sunlight and potential bug infestations. Then, of course, there's the intense stress that golfers place on the grass.
And you thought it was hard keeping your own yard green:
"If you had 200 people walk across your front lawn each day, what would YOUR lawn look like?" Boaz asks. "I've got 19 greens out here."
Despite the intensive care that defends the grass against its normal wear-and-tear, it wouldn't take much to turn LCC's shining emerald oasis to a withered brown eyesore.
"If the soil gets up to 106 degrees, the grass is dead," Boaz said, explaining that such heat destroys the grass on a molecular level, leaving no chance for recovery.
The greens are the hardest part, Boaz says. Composed of a variety of grass native to the mountains in southern Germany, the greens are mowed daily to maintain a length just under a sixth of an inch. Boaz describes it using a botanical analogy.
"It's like trying to make azaleas grow in western Kansas like they look in the south of France."
With the grass clipped to such a short length, its survival is at risk in any conditions, but that's the inherent challenge for a golf course superintendent.
"You cut the grass as close as you can get to killing it : without killing it," Boaz said.
Watering, too, is a challenge, and even after careful training it can be difficult to master.
The task is complicated by the fact that Leavenworth Country Club is home to some antique greens. Rather than the careful drainage planning and landscaping that goes into modern greens, LCC's greens are built atop pure soil, which adds a new facet to the challenge for Boaz.
"Some of the greens here have got to be 60-70 years old," he said. "Very few golf courses have greens this old.
"They just don't have the internal drainage that a newer course would."
Giving the grass just what it needs almost requires a special intuition: When Boaz looks at the grass, he sees much more than the untrained eye does. By the way light reflects off of the individual blades, he's able to get a better idea of how much water the grass needs.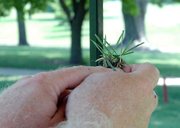 How much water, you ask?
"Last month I used about 3 million gallons," Boaz said.
That's just under the amount of water needed to fill four Olympic-sized swimming pools : for one month. Annually, LCC spends between $20,000 and $50,000 on water alone, depending on the conditions. That's a lot of green to keep the fairways and greens, well, green.
But even when conditions are kept perfect, disaster can strike. Boaz recalls a time several years ago when huge swaths of fairways were turning brown. It took days to sleuth the cause, which Boaz finally discovered when he noticed insect larva nested on one of the wilting blades.
A whole community of insects had decided to make home in the lux grass, and ever since Boaz has been forced to use insecticides to prevent the critters from taking a foothold.
But the variety of his job and the challenges it presents him is a cherished aspect of Boaz's job.
Each day Boaz is part gardener, part farmer, part detective and part administrator. But the jobs all fall under one umbrella for Boaz.
"Really, every superintendent's job is different," he said. "Most superintendents will tell you that they are stewards of the land."