Mowery powers Cubs into semifinals
Pitcher strikes out 15 in Zone Tournament victory
Lawrence — This was why Matt Mowery signed up to play one more summer of American Legion baseball.
It was for this moment.
Mowery, a 2005 Lansing High graduate, returned to the ball field to help lead a team not just into the Class AA Zone Tournament, but to a victory - and maybe even a championship.
He did just that Tuesday night at Free State High School when he threw all nine innings of the Lansing Cubs' 10-6 victory over the Leavenworth Legends.
Photo Gallery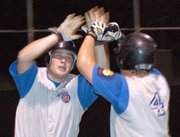 Cubs upend Legends in Zone Tournament opener
"It's a big win," Mowery said. "They were 21-1, and they beat us four times this year, but we told the guys if we have everyone here and we play our game, then we can take this game."
The Cubs (14-13) played their game from the very beginning. Mowery retired the Legends in order in the top of the first. Then the Cubs seized control. Tylor McNeill earned a leadoff walk in the bottom of the inning. Robert Lewis smacked a run-scoring single. Conn Blakley laced a base hit up the middle. Mowery reached on an error. John Tytla smashed a towering triple off the wall in left field that plated three runners. Lonnie Hansen singled. Levi Riddle reached base on an error and scored Tytla. Jonathan Stewart ripped a single that scored Hansen. McNeill loaded the bases with a single and Lewis brought home a run with a walk.
By the time the inning was finished, the Cubs owned a 7-0 lead.
"That seven-run cushion from these guys helped me out tremendously," Mowery said. "It's better for me to have a little cushion because I know I've got my defense behind me. With a seven-run lead, you can do basically whatever you want."
What Mowery wanted to do was throw strikes, and that's exactly what he did. He allowed just five hits and had 15 strikeouts. He also received plenty of support as Riddle, Blakley and Lewis turned in solid defensive performance in the infield.
Despite the early deficit, the Legends slowly crept back into the game by stringing together a few hits and walks and capitalizing on errors. They scored one run in the second, three more in the third and two in the fifth to pull within 9-6.
"They're a tough team," Cubs coach Michael Smith said of the Legends. "They did a good job and battled back. When you're down that many that early, a lot of teams will get down, but they didn't."
After the Legends' challenge, the Cubs responded by adding an insurance run in the sixth when Hansen scored on a base hit by McNeill.
Mowery took care of the rest. He faced 15 batters in the final four innings and allowed just one hit during that stretch despite showing some signs of fatigue.
"He definitely wore down in the end, but when you get that far in a big game there's no way we could pull him," Cubs coach Brett Horseman said. "He gutted it out. That's all there is to it."
When the final out was recorded - a strikeout - Mowery pumped his fist and let out a celebratory shout before being mobbed by teammates. He then grabbed a much-needed bag of ice for his throwing arm.
"It hurts a little bit. I'm not going to lie," he said with a laugh after his 168-pitch outing.
Although Mowery's arm is sore, he won't have to worry about pitching the semifinal matchup at 7:45 p.m. today. That duty likely will rest on Blakley's shoulders when the Cubs play either the Blue Valley Huskies or Lawrence Raiders at Free State. A victory would earn the Cubs a berth in the finals.