Two more businesses to leave Main Street
Head to Toe Salon's lease is expiring at the end of the month, and owner Ann Wiley says she figures it's probably a good time to call it quits on her business of six years.
The Main Street System Enhancement project, which has squeezed traffic along most of the entire length of Lansing's lone major thoroughfare, isn't the only factor behind the closing of the shop, at 816 N. Main St. in the Main Street Center.
But, Wiley said, "with the roadwork, it is a consideration."
Down the road, at 110 S. Main St., Celia Hansen is more vocal about the effects of the project on her 6-year-old business, Ceal's Designs and Signs.
"It's killing me," she said, noting next month she would be moving her shop out of its current location and returning it to a home-based business.
The two businesses are the latest to announce plans to vacate Main Street since the project started about two months ago. The $15.3 million reconstruction project isn't expected to be completed until late 2007 or spring 2008.
Ken Miller, the city's Main Street project liaison, said news of businesses leaving Main Street was unfortunate but the project was necessary.
"We realize there are going to be difficulties : but this is what Lansing needs; it's a project of utmost importance," he said.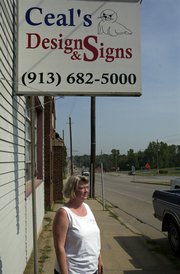 Lansing BP, 200 N. Main St., closed in late May and was the first business casualty of the Main Street project. Owner Jim Driscoll said high gasoline prices coupled with the construction led him to begin retirement a year earlier than he originally had planned.
At Head to Toe Salon, all of the five employees including Wiley are either going to work at another shop or going to school. Wiley is going to Carole's Styling Salon in Leavenworth, although she said she struggled with the decision to close.
"You put a lot of work into something, you hate to see it close," she said. "But life changes. There are some things my husband and I want to do that I couldn't do if I still owned a shop."
That time with her husband, the lease expiring and work on Main Street making its way toward the shop all played a part in Wiley's decision, she said.
Meanwhile, down the street at Ceal's, Hansen is dealing with the effects the project already is having on her shop, which specializes in custom-made designs and embroidery for clothing, signs, purses and other items.
Before the Main Street project began in earnest, Hansen said, walk-in traffic at the shop would keep her plenty busy.
"Usually, I was two to three weeks out with my business," she said. "I don't have enough now to keep me busy most of the day."
Asked what the problem was, she said, "It's Main Street."
"People don't want to come out here and fight the traffic," she explained.
Hansen's shop is on the west side of Main, just up the hill from where construction workers have been replacing the Seven-Mile Creek bridge. Traffic approaching the bridge from the north is restricted to one lane in each direction with the speed limit posted at 30 mph. After crossing the bridge, southbound traffic returns to two lanes about half a block from Ceal's Designs and Signs.
"As people get past that bridge, they floor it," Hansen said. "I wouldn't want to try to park in front of my building in that kind of traffic."
Beginning next week, customers at the shop won't have that option. Reconstruction on the southbound lanes of Main from Ida Street to 4-H Road will get under way. Main Street traffic will move in one lane each direction on the northbound lanes.
How customers will get to the store while the southbound lanes are shut down is a mystery to Hansen.
"I'm not sure how anybody's going to get to me. They won't be able to park out front. There's no back access; it's not done yet," she said, noting construction was continuing on the reverse frontage road that eventually will carry traffic from West Mary Street to Kansas Avenue behind her business.
"I don't even know how I'm going to get to work until that road is done," she said.
Miller said he understood the difficulties all businesses along Main Street faced with the project but noted the city was trying its best to work with businesses through the project's completion. The city has posted "Support Lansing business" signs at each end of town urging patronization of Main Street businesses during the project. It also has organized a Main Street advertising campaign to try to lure customers to the business.
Miller also regularly drops in on businesses soliciting input on how to lessen the impact on sales.
He also points to a decision made strictly with Main Street businesses in mind.
"We are not detouring traffic on Main Street," he said. "We're carrying it through. Granted, you're talking about increased travel time, but we wanted to keep traffic along Main Street to give people the chance to patronize their local businesses."