GOP

candidates spar in debate
Televised forum features Barnett, Canfield, Jennison
Topeka — Signs of life were visible Sunday in the Republican Party primary for governor during a live televised forum.
While three candidates reserved their major verbal attacks for Gov. Kathleen Sebelius, a Democrat seeking re-election, the GOP hopefuls began to jab each other as the Aug.1 primary nears.
State Sen. Jim Barnett, author and consultant Ken Canfield and former House Speaker Robin Jennison clashed over taxes, gambling, embryonic stem cell research, school finance and government debt during the one-hour forum on KSNT-TV.
It was a mostly low-key event, much like the rest of the campaign, with the three agreeing on tougher restrictions on abortion and reining in the Kansas Supreme Court, while they also devoted time to bash illegal immigrants.
Their differences, however, were featured during a portion of the forum where a candidate could ask another candidate a question.
Canfield, of Overland Park, questioned Barnett's support earlier in his legislative career for a tax increase.
Barnett, of Emporia, said he made "tough choices" in the wake of the 9-11 terrorist attack, which sent the national and state budgets into a tailspin.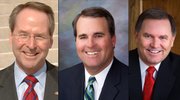 Now, Barnett said, with the budget in good shape, the state needs to control spending and cut taxes "so Kansas can catch up to our neighbors, so we can grow and have economic prosperity."
Barnett asked Jennison to explain his support of expanded casinos, and Canfield asked Jennison why he supported embryonic stem cell research. Barnett and Canfield said they opposed both expansion of gambling and embryonic stem cell research.
Jennison, who lobbied for expanded gambling after leaving the Legislature, said he was tired of seeing Kansas dollars go to gambling in other states.
He said he wouldn't push for new casinos as governor but would support the Legislature if it approved allowing destination casinos.
On embryonic stem cell research, Jennison said if he had a loved one needing help from such research, he would welcome it. "So, it would be hypocritical of me to then deny that opportunity to Kansans," he said.
Barnett also questioned Canfield's $1 billion bond proposal to provide venture capital, saying that would deepen the state's debt. Canfield said those funds would be raised privately, although when he rolled out the proposal, he had said it would be a combination of private and public funds.
Meanwhile, Jennison's questions to his fellow candidates were big softballs - one asking Canfield to answer why it would be better to have a Republican governor, and one asking Barnett to give examples of Sebelius' "lack of leadership."
In questions from viewers, the candidates said they would like to see further restrictions on abortion, with Canfield and Jennison saying they supported overturning the U.S. Supreme Court's Roe v. Wade decision, which legalized abortion.
Canfield stated, "Roe v. Wade will be overturned." And, he said, he was anxious to lead a discussion to end "the atrocities in Wichita," where Dr. George Tiller provides late-term abortions.
During the forum, Jennison and Barnett said they opposed the $466 million, three-year school finance bill approved by the Legislature, while Canfield said he supported it.
Four other Republican candidates - Rex Crowell, a former legislator from Longton; Dennis Hawver, an attorney from Ozawkie; Tim Pickell, an attorney from Prairie Village; and Richard Rodewald, a retiree from Eudora, were not invited to the forum.
KSNT-TV officials said they believed Barnett, Canfield and Jennison were the three main candidates and having them discuss their positions for an hour would be a better service for voters.