Oval Office visit 'awesome'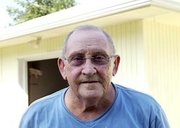 David Johnson was "in a daze" in 2003 when he met George W. Bush in the Oval Office.
When Johnson's son left his job as a White House aide, he was allowed to bring a guest to his final meeting with the president. He decided to bring his dad.
"It was awesome. It was the first time I was in the Oval Office," Johnson said. "(President Bush) is friendly. He has a great sense of humor."
Though it was his first time standing in the Oval Office, Johnson had seen the room before. Johnson said he had seen it during a nearly all-access White House tour for attendees of a banking convention in Washington.
Johnson, who grew up in Leavenworth, moved to Fresno, Calif., while attending school through the Navy. Though he returned with his family years ago, he still remembers the beauty of the Fresno Valley.
"They say it could be the richest valley in the world," Johnson said. "If you had 40 acres of pecan trees, you'd never have to work again."
Johnson loved being close to the mountains as well as the ocean. It provided his family with unique opportunities for fun.
"We used to drive up into the mountains to let the kids play in the snow and then we'd bring them back," Johnson said. "That's the way to enjoy snow."
Though Kansas snow is a little harder to avoid, Johnson has no wishes to move.
"People retire and they move to the Ozarks and all that - I'm perfectly happy right here."
Name: David Johnson
Address: 603 N. Second Terrace
Occupation: Retired
Family: Sue, wife; David Jr., Robert, Steven and Michael, sons; Fran, daughter.
How long have you lived in Lansing and what brought you here? Since 1967, came back to be closer to family.
What do you like most about Lansing? Like everyone else, it's a small community, friendly : It's just a nice place to live.
What do you do for fun? Golf. We like going to plays. I also like doing yard work too.
What's the best advice you've ever received? My dad once told me, "Never try to paint with a bad paint brush," and, "You should never have a house payment larger than your take-home pay on Friday."
What organizations or clubs do you belong to? Lansing Kiwanis