Aquinas squeaks past Lansing
Saints toss no-hitter, still need eight innings to beat Lions
Topeka — St. Thomas Aquinas had to be darn-near perfect Friday to beat Lansing High in the first round of the Class 5A state softball tournament, and even that almost wasn't good enough to take down the Lions.
STA junior pitcher Eranne Daugharthy tossed a 15-strikeout, eight-inning no-hitter - she had a perfect game going for 7 2/3 innings - but LHS freshman Brittney Lang matched her with a businesslike five-hit effort before the Saints finally scored in the bottom of the eighth to squeak past the Lions, 1-0.
Photo Gallery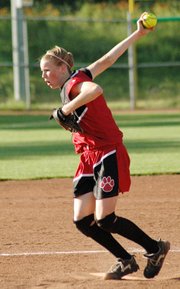 State softball: Lansing vs. St. Thomas Aquinas
"What more can you ask for as a coach, parent or fan than to come watch something like that?" Lansing coach Terry Cornett said. "That's softball. That's good old down-to-earth girls softball."
The eighth-seed Lions and top-seed Saints certainly gave fans their money's worth. In addition to the pitching duel, the Lions turned in numerous dazzling defensive plays that kept the game scoreless.
Case in point. Daugharthy struck out the side in the top of the first. Then Courtney Wray slapped a leadoff single for the Saints in the bottom of the inning. She advanced all the way to third, but a long running catch in foul territory by Sara Logan and a ground ball to Kasey Denney ended the threat.
Daugharthy continued to mow down Lansing's batters in order, and the Lions rarely came close to making contact.
"Everything she threw rose, and we weren't ready for it," senior first baseman Dana Sanders said.
Lansing's defense was ready for Aquinas. LHS continually made clutch defensive stops. Daugharthy's one-out triple in the fourth almost guaranteed the Saints would score, but a sharp line drive down the first base line was snow-cone snagged by Sanders for out number two. A pop-up ended the inning. The Saints again put a runner on third in the fifth inning, but third-baseman Morgan Chiles snared a line drive an inch off the dirt to thwart another threat.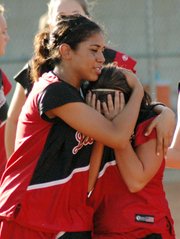 "We would give them an inch, but we wouldn't give any more," Cornett said.
Each time the Lions made a defensive stop, they relaxed a bit more.
"You're like 'Okay, we can do this. We've done it before. We've gotten ourselves out of this situation,'" Sanders said. "It was really fun because you don't know what to expect."
The timely defensive plays kept coming for Lansing. In the sixth inning, Aquinas had a runner on second with one out when Daugharthy smashed a line drive to left-center field. As the ball sailed into the gap, senior left fielder Jessica Stark laid out for it and made a diving catch. She then got to her knees and fired a throw to second base for an inning-ending double play. Then in the seventh inning, sophomore Amanda Darrow made an even wilder play when she caught a pop-up that deflected off Chiles' glove.
"You remember those plays, and all of them were with somebody on base," Cornett said. "We made them work. We flat-out made them work."
Sanders broke up Daugharthy's perfect game in the eighth inning when she earned a two-out walk. Sanders later got caught in a run-down that ended the inning. The Saints finally capitalized in the bottom of the eighth when they got a leadoff single and advanced the runner to third on an error. Carrie Brand's slap hit in the infield allowed the game-winning run to score.
"They've only lost one game all year," Darrow said. "We knew we had competition coming and we brought everything we had. Our bats weren't very strong, but we stuck it out with our defense."
Lansing ended its season 16-7. Aquinas went on to place second at state and posted a 23-2 record.