Duty-bound honor Memorial Day's Meaning
Photo Gallery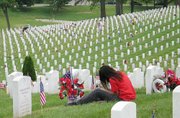 A day to remember
Memorial Day ceremonies were held at Leavenworth National Cemetary and Fort Leavenworth National Cemetary.
For many, Memorial Day is a holiday that rings in the arrival of summer: a day for barbecues and cold beer. But for others, staying true to the purpose of Memorial Day goes beyond a matter of etiquette. It is a matter of duty.
"It's the day we honor all the ones who served and especially that gave their lives in defense of their country or that died after they served," said A.C. Byrd, a retired master sergeant of the U.S. Army and veteran of two tours in the Vietnam War, who attended Memorial Day ceremonies at both Leavenworth National Cemetery and Fort Leavenworth National Cemetery.
"We remember all the time, but this is just one day when we really get together and do a full-scale honoring."
Byrd was among the veterans, spouses and family members who gathered at the ceremonies to pay respects to those who served both recently and throughout history. Often, Byrd said, the memories stirred by the firing of the 21-gun salute and playing taps rouse painful emotions.
"It's sort of heart wrenching," Byrd said. "The saddest thing in the world is when the guns go followed by taps. It's when grown men break down and cry. And it's just remembering that that's the end of something for a lot of people.
"When they sound the cannons and they blow taps, it's just the way that those hills reverberate everything there."
For Byrd, who retired from a 24-year career in the army to work for 20 years in civil service at Fort Leavenworth and stayed active in the American Legion, Memorial Day isn't the only time to honor those who served. Byrd helps the Veterans Administration perform a memorial ceremony on the last Thursday of each month for veterans who were buried without a funeral.
"I've known a lot of them that were killed, and I known a lot that's died since then," Byrd said. "All the veterans mean a lot to me."
But some like Mike Howell, a retired first sergeant of the U.S. Army and also a veteran of the Vietnam War, are dismayed to find that those who share Byrd's devotion to honoring the memory of those who served are becoming more and more scarce.
"I think the American people have forgotten to a large part what Memorial Day is all about," Howell said. "You know, back when I was growing up, Memorial Day, stores were closed and the whole town turned out to celebrate their veterans and pay homage to those who had gone before us and so forth.
"The biggest thing about Memorial Day now is the sales that the big stores have."
Howell's father was a bugler in World War II, and Howell remembers hearing taps played from the time he was young. He admits the meaning has changed for him over the years, however.
"You know that that sound of taps is not just for somebody you have no idea," Howell said. "It's YOUR fallen comrade that it's being played for."
"Just the thoughts that go through your head as you're standing there saluting and listening to taps play: you think about your fallen comrades."