Last stand at state
Radovich returns to medal stand with sixth-place finish in javelin
Wichita — Amanda Radovich paused mid-sentence as a bone-chilling shriek broke through the air.
The shriek came from Newton High senior Janae Voelker as she unleashed her final throw in the javelin Friday morning at the Class 5A state track meet at Cessna Stadium.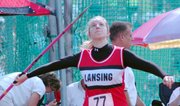 "I think she just broke the state record," Radovich, a Lansing High senior, said as she watched Voelker's javelin sail a record 146 feet, 5 inches. Sure enough, the throw set the new 5A state meet record. The old mark of 144-10 was set in 2003 by Ashley Keats of Salina Central.
Radovich placed sixth at state with a throw of 123-8.
Witnessing opponents set records isn't new for Radovich. In fact, it has been commonplace this year. Tonganoxie's Ali Pistora - the state runner-up in Class 4A - made the top throw in the nation this year when she threw 154-6 at the Kaw Valley League meet on May 10.
"It seems like every meet I'm at, someone breaks a record," Radovich said with a laugh.
Even Radovich took her turn setting a record this year. She broke the LHS school record when she threw 139-5 to win the Baldwin Invitational on March 31.
In addition to state, meet and school records, opponents often set personal records when competing against Radovich. Such was the case at the regional meet when she barely qualified for state despite throwing more than 120 feet.
"I think we had the toughest regional because I was sixth (at state) and I got fourth at my regional," she said.
It was the tough competition that LHS coach Errol Logue said prepared Radovich for state. She grew accustomed to being a part of tough fields and long throws, so she was mentally prepared for state, Logue said.
Radovich's preparation also extended from practice. She altered her practice routine to get ready for state. The day before state she practiced in the morning and threw from the high jump runway to simulate the time she'd be competing and the surface she'd be on. She even poured water on the runway to simulate throwing in the rain because bad weather was in the forecast.
Her preparation paid off.
"This is a classic case of being a competitor," Logue said. "She came up here with the goal of medaling, and that's what she did."
Radovich said she'd hoped to throw farther, but she said she was happy to return to the medal stand. She placed sixth at state as a sophomore in 4A.
"I'm not disappointed at all," Radovich said. "Not many people get to get up there (on the medal stand) once, and I get up there twice. I'm not disappointed in the least. I'm extremely happy."
Radovich will throw the javelin and discus next year on the track team at West Point.