Laurence conquers Olathe Marathon
As a teacher at the Command and General Staff College at Fort Leavenworth, Tad Laurence is used to being surrounded by athletic people, so it didn't surprise him when four of his students decided they would run the Olathe Marathon.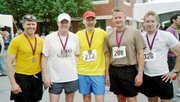 At least he wasn't surprised until he learned the final component of their plan.
"They're all in their 30s, and they came to me and said they were going to do this," Laurence said. "Then they said, 'You're going to go with us.'"
Initially Laurence didn't like that idea. He ran in high school, and he did the required running to maintain his ROTC scholarship at Rice University in Houston, Tex. A marathon was something entirely different, though. It would be 26.2 miles - more than twice as far as he'd ever run in his life.
"I told them, 'I don't think so,'" Laurence said. "They said, 'Yes you are.' So I told them I'd go with them until a joint failed."
Throughout four months of training, almost all of it on a basement treadmill, Laurence experienced no joint failure. There were aches and pains that come naturally with distance running, but he weathered those ailments and persevered.
Laurence competed in the Raintree Run half-marathon on April 9 in Lawrence to see if his body would be able to handle longer distances. He completed that race in 1 hour, 54 minutes and placed 25th in his age group.
Next stop, the marathon.
On the morning of May 19. Laurence awoke and knew something wasn't right.
"The day before the marathon I came down with a cold," he said. "I had sore joints. I was sneezing. I wasn't feeling very good."
Laurence went to bed that night feeling ill, and he still felt under the weather when he climbed out of bed the next day. Regardless, he decided he wouldn't let his four months of training go to waste. He laced up his running shoes and headed for the starting line. Before the race, Laurence met up with his students, Brian Freidhoff, Kevin Kelly, Rob Bowers and Frank Turner. After a few words of encouragement, the race began.
Laurence cruised through the first half of the race at a steady pace.
"At Olathe, my split halfway through was faster than my time at Raintree," he said. "I really didn't start to feel bad until mile 17."
Despite the pain and fatigue that set in, Laurence pushed forward. He finished the race in 4 hours, 43 minutes.
"I would've liked to have run faster," he said. "But finishing's finishing."
With his first marathon behind him, Laurence said he would consider running another one sometime in the future.
"I am in the best cardiovascular shape that I've been in probably since my 20s," said the 45-year-old Laurence. "I'd like to continue to stay in good shape."
Laurence said he also would look to more local races, such as the Lansing Historical Society's 5K run, as a way to continue competing. He also will run the Hospital Hill 5K on Saturday in Kansas City, Mo.
"What's really funny is I ran the (Hospital Hill) 5K last year and I thought, 'Man, that's a long way to run,'" Laurence said with a laugh. "This year it's like, 'A 5K? I'm not going to even break a sweat. This is no big deal!"