Parr places eighth in 'mind-blowing' 400-meter heat
The distance was the same, but everything else was different for Samantha Parr when she climbed into the blocks Saturday to compete in the finals of the 400-meter dash at the Class 5A state meet.
Parr, a Lansing High senior, was prepared to run in front of more than 10,000 fans at Wichita State University's Cessna Stadium, but it was the other things that got to her. For the first time all year she ran in lane eight. That meant that instead of chasing after other runners to make up the stagger start, she became the hunted rabbit.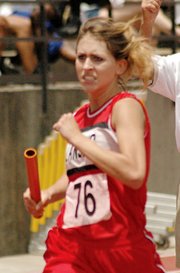 "I've never been in the outside lane where I didn't have anybody to go after," Parr said.
Chasing down other runners is what made Parr so dangerous in the 1,600-meter relay, but that's not an option in lane eight.
Then there was the fact that she was in one of the fastest 400-meter finals races in any class in recent memory.
Six of the seven other runners in the race ran under 60 seconds. No other class had more than three runners under 60 seconds. Some classes had no runners under 60. State champion Layne Moore of Emporia led the way with a sizzling 56.76. The seventh place runner missed running sub-60 by five one-hundredths of a second. Parr placed eighth in 1:03.92.
"When I saw everybody running and how fast they were, it was mind-blowing," Parr said. "It was crazy."
Parr placed fourth in her preliminary heat Friday when she ran a 1:02.93. The top four in each heat made it to finals. Parr said that although she didn't medal, it was special to make it to the final day of competition.
"It made me feel better just making it there," she said. "I didn't have to do great. Just being there was enough."
Photo Gallery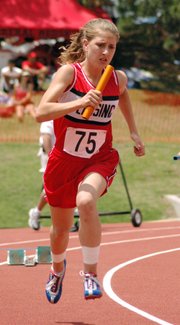 State Track 2006
Parr said that although she was extremely nervous, the support of teammates and coaches helped her stay focused. Specifically, she thanked her 1,600-meter relay teammates - freshmen Amanda Mitchell and Ellie McNeill and junior Riann Deere - for sticking around to support her on Saturday. The relay team placed fifth in its preliminary heat on Friday in 4:20.93, but didn't advance to finals.
Three other Lions also competed at the state meet. None brought home medals.
LHS junior Erin Rogers narrowly missed medaling in the pole vault. After winning the regional title by clearing 8 feet, Rogers matched that height at state. She cleared 7-6 and 8-0 on her first attempts but was unable to clear 8-6. She finished in a three-way tie for ninth.
After medaling twice before at state as a member of the 1,600-meter relay team, LHS senior Jeff Slater's hopes of medaling individually came to a halt in the 400-meter dash. He placed fifth in his preliminary heat in 51.34 and didn't advance to the finals.
LHS sophomore Matt Sittenauer competed in the long jump and 100-meter dash at state, but he came home empty-handed in both events. Sittenauer placed eighth in the long jump with a leap of 20 feet, 6 1/2 inches. He was ninth in the 100 in 11.32.