Rite of passage
Eighth-graders celebrate end of middle school
Sometimes it's all about a little closure.
But since freshmen-to-be have no formal ceremony for passing eighth grade, Lansing Middle School provides them an informal rite of passage: a barbeque and a dance. It's a social event that some want to see grow.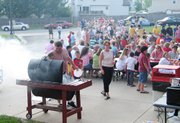 "It's just that one final gathering," said Joan Padgett, a member of the LMS site council and an organizer of the event. "The hardest thing is making sure you have enough food."
The event Tuesday, May 22, began with a barbeque gathering for the eighth-graders, their families and friends, and transitioned into a dance later in the evening.
Eighth-grader Kevin Reed couldn't think of a better event to mark the end of middle school.
"I think what they're doing now is great - the dance - where all the kids can get together one last time," Reed said.
Though throwing the celebration is no new idea, Padgett has been working to expand the event, hoping to attract 100 percent attendance from the eighth-grade class. But feeding the school's 171 eighth-graders and their families is no small task - or expense.
In the past, students and their families had to pay a small fee to attend the event, which Padgett said might have discouraged some from attending the celebration. Padgett said it's something she believes they should not have to pay for.
"I'm of the era when we had a graduation party," Padgett said. "It's really an acknowledgement."
To make the event free, Padgett has turned to sponsors within the community - a new trend for the celebration. The work has paid off.
Though attendance was not taken, more than 450 students, family and friends returned RSVPs for the event, and Padgett said they planned for around 600. Despite the extra, some of the food was beginning to run out.
"This was a bigger turnout than I expected," Padgett said.
Though pleased with the result of the event, Padgett said she'd aim even higher next year.
"What has been the most fulfilling for me is that the children will be leaving Lansing Middle School with an acknowledgement of their achievement," Padgett said.