Ulin resigns council seat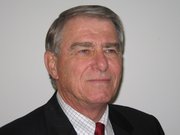 Lansing City Council member Robert Ulin on Thursday announced his resignation from the board.
Ulin, in a statement at the end of Thursday's council meeting, cited his new position as chief executive officer of the Command and General Staff College Foundation as the impetus for his resignation from the council.
"My current duties and responsibilities as the CEO of the newly established Command and General Staff College Foundation are consuming much of my time, leaving me little time to focus on the needs of the city," Ulin said. "As most of you know, the first few years of any business enterprise requires a great deal of focus and hard work. Besides, participation on the council should be shared with other citizens so they can help shape the future of our city."
He told council members Thursday's meeting would be his last.
Ulin was appointed to the council in June 2001 as a Ward 3 representative. He was elected to a four-year term in April 2003.
Ulin, a retired Army colonel, has two master's degrees and is a graduate of an executive management program at Harvard University.
He was instrumental in landing a $2 million federal grant for improvements to De Soto Road, and said one of his biggest disappointments on the council was not being able to convince his colleagues of the need to hire a fulltime grant writer for the city.
There was no indication how the council would proceed in filling Ulin's position between now and April 2007, when the seat is up for election.
For more on Ulin's departure from the council, pick up the June 8 Current.