12-year-old escapes tragedy
Drainage detention basins no playground, authorities warn
A Lansing youth is recovering from bumps, bruises and cuts he received this week from an accident in a drainage detention facility in which he could have drowned.
Jonah Markovetz, 12, was "shaken up tremendously" in the accident that occurred about 7:50 p.m. Monday, June 5, in the Wyndham Hill subdivision on 4-H Road in Lansing.
"He's doing fine now," his mother, Julie Markovetz said Tuesday afternoon. "He's scraped from head to toe and has a pretty good gash on his foot, but he's doing fine."
Jonah and his 14-year-old brother, Noah, were playing in the basin at the northeastern edge of the subdivision shortly after a downpour blew through Lansing. Runoff from the storm had filled the normally-dry basin with about four to five feet of water, emergency responders said Tuesday.
Unknown to Jonah, the current in the water was strong enough to carry him away - and it did. The current carried the youngster through the drainage pipe out of the basin, along a riprap-lined stream to another drainage pipe before he eventually was deposited in another drainage stream.
U.S. Army Maj. Nathan Bollinger, a Wyndham Hills homeowner who had stopped at the community mailboxes across the street from the basin, saw the two boys before the accident.
"I had yelled down to them they shouldn't be playing there," Bollinger said.
But no sooner had he picked up his mail, Bollinger said, "I turned around and I saw one of those boy had gone under water."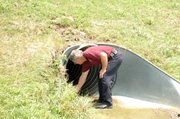 Bollinger said he immediately gave his cell phone to one of his daughters so that she could call police, then he took off for the water.
"I went into the water on the near side looking for him, then I ran to the other side. I couldn't find him," Bollinger said. "I was thinking, 'Is he going to die right here in front of me and my daughters?"
Finally, Bollinger said he noticed another drainage pipe that allowed the stream to flow back to the south and into a wooded area.
"He had gone through two of those pipes," Bollinger said, "I found him on the far side of the second one."
By the time Bollinger had reached Jonah, the boy was pulling himself out of the water.
"He didn't say much; he was really shaken," Bollinger said. "I think his brother was shaken even worse."
Rick Huhn, fire chief of Leavenworth County Fire District No. 1, on Tuesday estimated the current that carried Jonah out of the basin was traveling about 10 to 12 mile per hour - enough to carry away a small automobile.
"That's fast," Huhn said. "The Missouri River moves at about 6 mile per hour."
Huhn said a fire squad was just across the street from the basin when the call for assistance was received. Firefighters arrived in time to see Jonah struggling to hold onto the first drainage pipe before being pulled through.
Though it was just a matter of seconds that the boy was clinging to the pipe, Huhn said, "that was plenty of time for him to be scared."
In all, Huhn estimated that Jonah was carried about 55 feet in the raging water.
On Tuesday, with Jonah recovering, his mother was lamenting that her sons had put themselves in a dangerous position.
"They should have been mature enough to know you shouldn't be playing there," Julie Markovetz said. "Even at their age they should know better."
Lansing Police Chief Steve Wayman, who visited the accident scene Tuesday afternoon, praised Bollinger for his efforts and said he did "a fantastic job."
Julie Markovetz said she was extremely grateful for Bollinger's efforts, adding, "I'm grateful someone stopped and noticed, or there's no telling what might have happened."
As for Jonah, Wayman said, "Luck was on that young man's side."
The lesson, Huhn said, is that while a detention area might look like a safe place when it's dry, it's another story just after a heavy rain.
"Every new subdivision is building one of these," Huhn said. "But it's not a playground."
Julie Markovetz said the point was not lost on her son.
"Jonah is fully cognizant of how close he came to drowning there," she said. "He was really, really scared."