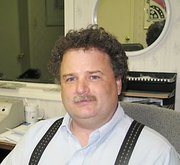 As a young boy, Kevin Albee had a chance encounter with Spock in the grocery store.
The "Star Trek" series had started only months earlier, and seeing Leonard Nemoy was a close encounter for a 4-year-old. Albee said he was unsure about shaking the actor's hand - he was wary of the Vulcan death grip.
Whether or not meeting Spock influenced him, as Albee grew he was always a big fan of science fiction - especially "Star Trek" It's plain to see in his office, where framed, autographed portraits of "Star Trek" characters almost entirely cover the wall.
"The world that we're in is hard: the war on terror, poverty. 'Star Trek' and science fiction lets you look beyond that and say, We can get through this, we can figure it out," Albee said.
How fanatic is fanatic? Albee said he had a library in his basement with more than 20,000 sci-fi books he had read. But the library might not be the strangest item you'd find.
"I actually have the homemade Klingon outfit. Headpiece and all," Albee said.
By day, Albee splits his time between working as a hearing specialist at A & D Hearing and as a landlord in Lansing and Leavenworth.
The draw to audiology began with his father, who was thought mentally disabled until his teachers discovered his hearing loss. A hearing aid changed his life.
"He not only caught up but he graduated as valedictorian," Albee said.
A quote from Helen Keller has stayed with Albee through the years. She says when you lose your vision, you lose your connection to things, but when you lose your hearing, you lose your connection to people. The latter drives Albee's work.
"That's what we're all about here: trying to help people keep that connection," Albee said.
Name: Kevin Albee
Address: 2205 S. Fourth St., Leavenworth
Occupation: Audiologist
Graduate of: Kansas State University
Family: Angela, wife; Leah, 11, and Linsey, 9, daughters; Adam, son, 9
How long have you lived in Lansing and what brought you here? My dad brought me here kicking and screaming when I was 8.
What do you like most about Lansing? What I really like is the diversity.
What do you do for fun? I go to science fiction conventions, I irritate my children as much as possible and I remodel property.
What would surprise people about you? The diversity of what I do. Most people see me in one specific role.
What's the best advice you ever received? To always treat others with respect.
What organizations or clubs do you belong to? Sertoma