Former prison volunteer pleads guilty in escape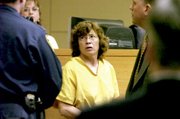 Toby Young, the woman who once volunteered to help prison inmates, will be spending time in prison herself.
Young, former leader of the Safe Harbor Prison Dogs program at Lansing Correctional Facility, last week pleaded guilty to aiding and abetting aggravated escape and introducing contraband into the prison.
The plea was part of an agreement worked out between Young's attorney, Jim Yoakum, and the Leavenworth County Attorney's Office. County Attorney Frank Kohl said that in exchange for the plea, Young would be sentenced to 21 months in prison. Had she gone to trial and been convicted, Young could have been sentenced to as much as 32 months behind bars.
"I think it's an appropriate disposition of the case," Kohl said.
Kohl said he was firm in requiring some prison time as part of any agreement, although going to trial would have been a gamble for both the prosecution and Young.
"She will serve a 21-month sentence," Kohl said of Young. "The maximum sentence was 32 months (for a conviction on the charges). She could have potentially served (only) probation."
Young, who entered her plea Thursday, June 1, before District Judge Frederick Stewart, said she helped convicted murderer John Manard escape from the prison on Feb. 12 by driving him out in the Safe Harbor Prison Dogs van. The scheme was helped by Young's successful smuggling of a cellular telephone into the prison that was used by Manard.
The agreement, Kohl said, calls for Young to pay about $7,500 to the Kansas Department of Corrections for overtime and transportation costs spent while searching for her and Manard. She'll also forfeit just about all other property that authorities confiscated from the Tennessee cabin where the she and Manard had been staying.
"She will be given a mandolin, which was part of the property seized," Kohl said. "The remainder : will all be forfeited to the state."
The agreement also calls for Young's husband, Pat, to receive what's left of $25,000 in cash found at the cabin, less the money being forfeited to the state.
Young also agreed to cooperate with prison authorities, who continue their investigation into the escape.
"She indicated she was willing to talk to investigators to see if maybe she had information they didn't have," Kohl said. "I don't know what that may be, but she may be able to give information to implicate other people."
Finally, the agreement called for Young's bond to be lowered to $20,000 - which allowed her to bond out of the Leavenworth County Jail on Friday.
Now, she'll be free until her sentencing, which is scheduled for July 12.
The escape and resulting search for the fugitives captivated the region. Initially it wasn't known whether Young, a 48-year-old married mother of two grown children, had been taken hostage by Manard during the escape.
That theory quickly was dismissed, however, as evidence of a planned escape mounted. The two were captured 12 days later in Tennessee, where they had been holed up at a remote fishing lake.
Young had started the Safe Harbor program in August 2004 and had been a regular visitor to the Lansing prison's maximum-, medium- and minimum-security areas. The program receives dogs from shelters across northeast Kansas and matches them with inmates who feed, groom and socialize the dogs to improve their chances of being placed in a new home.
Manard, 27, was the program's star trainer.
Now, Manard is back at Lansing and again serving his life sentence for first-degree murder, aggravated robbery and criminal possession of a firearm associated with the carjacking and slaying of a Johnson County man in 1997. He no longer has privileges that allow him to participate in the Safe Harbor program.
Kohl said the case was one of the more bizarre he's had.
"It's extremely unique. You usually don't see people in that situation doing what she did, but it's not totally unheard of," he said. "I think what she did is best described as incomprehensible, not only to the people she worked with at the prison, but to her family and certainly to most members of the public."