KDOT

secretary promises modern Main St. for city
Lansing residents, commuters and visitors to the city will enjoy an up-to-date, safe Main Street when construction is completed, Kansas Secretary of Transportation Deb Miller told a Lansing audience last week.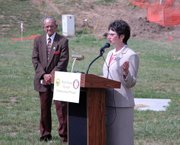 Miller visited Thursday afternoon to participate in a ceremonial groundbreaking to mark the start of the two-year, $15 million project in which the Kansas Department of Transportation and the city of Lansing are partnering.
"Truly, when this is finished, you're going to have a thoroughly modern Main Street, and it's going to make this city look great," Miller told about 60 people gathered for the groundbreaking near the corner of Main and West Mary streets. "It's going to reduce the number of access points, which will improve the safety and the traffic flow. And long term, I think without question, it's going to improve the economic viability of this community."
Although the groundbreaking celebrated the start of construction on Main Street, Miller said it shouldn't overlook the work city officials did in laying the foundation for the project, which dates to the late 1990s.
"Because your community's been at it for a long time, and you did it the right way and you did all of the hard work," she said. "You had the vision. You got the buy-in from your citizens. You figured out how to handle the funding."
The Main Street System Enhancement project calls for widening Main Street from Connie to Ida streets to include a center turn lane, rebuilding the bridge over Seven-Mile Creek, reconstructing medians from Gilman Road to Ida Street and constructing a "reverse frontage road" north of West Mary Street to West Kansas Avenue. Construction is slated to continue into 2007.
Mayor Kenneth Bernard thanked Miller for attending and for her efforts on behalf of the project. Bernard called Thursday a "long-awaited day for the community."
"I'm sure that things will be confusing for the next two years, but we're ready for that," he said.
Afterward, Miller said in an interview the Main Street project would test the patience of many in Lansing, but promised the end result would be worth the trouble.
"It's like that kitchen remodel. There's no question when you're in the midst of it, it's very inconvenient. But when it's finished, it's just wonderful," she said.
She credited Lansing's leaders with having the foresight to undertake the project. She noted the road carries an average of about 25,000 vehicles per day; by 2026, the road is projected to carry 40,000 vehicles per day.
"If we don't make some of these improvements, then sooner or later you don't have the improvements but you have all of the traffic congestion and frustration because you didn't modernize and improve. : That traffic's going to happen whether we improve it or not," Miller said.
Both Miller and Bernard heaped praise on those involved in the project, including Gov. Kathleen Sebelius, area lawmakers, Lansing City Council members, district highway commissioners and others.
Bernard told the audience the project was about more than just widening and smoothing the main thoroughfare in Lansing.
"It's going to add a lot to this community, it's going to open up a lot of economic development," Bernard said.