Lansing
DAZE

getting partial makeover
Lansing DAZE 2006 will be more compact than in recent years, but organizers promise the annual summer festival still will be bursting with fun.
The festival kicks off today, June 8, with a golf tournament that gets under way at 1 p.m. with a shotgun start at Leavenworth Country Club and ends Sunday with a 7 a.m. 5-kilometer race that begins and ends at the Lansing Community Museum.
In between, festival organizers say, there'll be plenty of activities including live music and dancing, a parade, inflatable rides and games for youths, a car show, exhibitions and a fireworks extravaganza.
"We feel like we're going to have a great event," said Shanae Randolph, the city of Lansing's director of economic development/Convention and Visitors Bureau.
The biggest change for this year is cutting out most of the festival's Sunday events. This year, in fact, the Lansing Historical Society's "On the Run" 5K will be the festival's lone Sunday event.
Randolph said that in past years Lansing DAZE was extended to Sunday to try to lure a carnival vendor. But for a variety of reasons, including rainy weather in 2005, the carnivals always seemed to pull up stakes early, leaving Sunday visitors with few entertainment options.
"We decided it was in the best interest to just consolidate things and have a long day on Saturday," Randolph said. "It's really not cutting things out, and vendors really prefer the longer day is what we've found out."
As in the past, this year's festival will be conducted on and around the grounds of City Hall, 800 First Terrace.
The festival hours will be expanded on Saturday, with most booths and vendors open from 9 a.m. to 8:30 p.m. That'll give festival visitors plenty of time to scout out a good view for the annual Lansing DAZE fireworks show, which is scheduled to take place at 9:30 p.m., with the pyrotechnics shot off from nearby Towne Center.
Friday, from 7 p.m. to 11 p.m., the festival's focus will be at the parking lot of The Overlook, 720 First Terrace, where music and dancing will take place. The Oscar Polk Band returns for a second-consecutive year at Lansing DAZE and will provide the Friday night entertainment.
Saturday morning events begin at 7 a.m. with the Kiwanis Club's annual Pancake Breakfast, which continues until 11 a.m. at the Lansing High School commons area.
Photo Gallery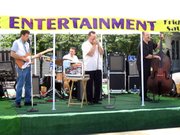 Lansing DAZE scenes
Despite rainy weather, organizers say the 2005 Lansing DAZE festival exceeded their expectations. Here's a look at some of the scenes.
At 10 a.m., the festival's annual parade will begin.
Lansing DAZE parade organizer Tiffany Herken said she was hoping for clear skies when the parade kicks off.
Last year's parade was conducted in a late-spring downpour.
This year's parade won't cross Main Street, scene of a major construction project. Instead, parade entrants will line up in the circular drive behind the Leavenworth County Fire District No. 1 Station on East Kansas Avenue. The parade will proceed on Second Street to East Mary Street, work its way to back to Second Street to Lion Lane, then to First Terrace before ending at City Hall.
It's a shorter route, but a safer route, Herken said.
"We shortened it because we didn't want to cross Main Street with the enhancement project going on," she said. "It's just too dangerous, and there's too much construction traffic."
As for the weather, Herken has her fingers crossed that an early forecast for partly cloudy skies will be the worst-case weather scenario.
"It's rain-or-shine," Herken said of this year's parade, "but hopefully it'll be sunny."
This year's parade grand marshal will be Dale Bohannon, the director of building and ground for the Lansing school district and the 2005 Citizen of the Year as dubbed by the Lansing PRIDE committee.
Bohannon will lead a parade that's expected to include bands, a drill team, fire trucks, police cars, National Guard equipment, floats, show cars and local dignitaries.
Back around City Hall, there'll be plenty of activity throughout the day Saturday, including the inflatables for children, a slew of children's entertainers, a mini-art show, a dunk tank where Lansing DAZE visitors can try their luck at sinking local notables in a tank of water, a display of some of military vehicles - including a tank, exhibition all-star wrestling matches, a car and cycle show and plenty of arts and crafts booths.
The festival's crowning event Saturday will be the annual fireworks display, which takes place at 9:30 p.m. Fireworks will be shot from the Towne Center complex across Main Street from the festival grounds.
Randolph said people watch the display from all over town, but she said some of the best views still could be had from a lawn chair on the festival grounds.
"We encourage people to come and view it from the festival grounds," she said.