Legislative wrapup includes praise for city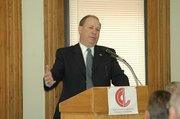 Leavenworth — Local lawmakers met for the spring's final Legislative Breakfast on June 3, where they praised and criticized the just-completed 2006 legislative session. Rep. Kenny Wilk, R-Lansing, even took some time to praise the work of local city officials.
Despite the realization in April of a large disparity in projected cost and bid cost for the Main Street project, city officials worked with the state to close the gap and ensure the future of Main Street.
"Occasionally, there are things that happen in Topeka that have little to do with legislation that are just as important to our community," Wilk said. "We had about a $2 million gap between what we thought it was going to cost and what it actually was going to cost.
"I want to commend Mayor Bernard who's here, and Mike (Smith) and Don (Studnicka), the folks from Lansing. : I think it's important for people to know that literally we were able to resolve that issue in a matter of hours."
After stating some pitfalls of policy related to the "No Child Left Behind" education reforms, Rep. Candy Ruff, D-Leavenworth, voiced praise for the education-funding bill that passed during the session. Teachers and districts should not be held accountable for the performance of students without acknowledging the circumstances the students come from.
"We're not producing widgets in the public school system," said Ruff, whose district includes parts of Lansing east of Main Street. "We're working with imperfect human beings that are certainly are doing the best they can when it comes to the children they have.
"Remember, the children arrive at the front door of the school with a lot of problems and a lot of baggage, and teachers do the best that they can : ultimately it's those families which should be held accountable for what ultimately happens with their own children."
Ruff added that for students to meet standards, more money was needed for districts that have higher percentages of low-income or at-risk students. She said the solution that passed was a step in the right direction.
"I'm very proud of the school funding bill we got through," Ruff said.