State's finest
Kansas Soccer Coaches Association taps three Lions for All-State honors
Twenty-two schools had representatives on the Kansas Soccer Coaches Association's Class 5-1A All-State soccer teams, and Lansing High tied for the third most honorees.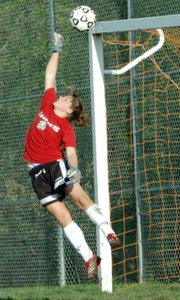 Class 5-1A state champion St. Thomas Aquinas placed five players on the first and second teams, as did Wichita Kapaun-Mt. Carmel. Lansing was one of six schools that had three players receive All-State honors.
Junior midfielder Bianca Manago and sophomore goalkeeper Katie Nietzke earned first team honors. Junior defender Abby Hauver was selected to the second team.
"I was expecting it," LHS coach Rob Elkins said. "But you never can be sure how they will do things from year to year."
The three all-staters were the most in LHS girls soccer history, Elkins said. The Lions' previous best was two. That happened last year when Manago made the first team and 2005 senior Kendra Sickinger was on the second team.
Elkins said he expected Manago, Nietzke and Hauver all to be honored because they'd previously been named All-Region. Junior defender Elizabeth Cristiano and sophomore midfielder Rachel Pride also were All-Region picks. Players who earn regional honors have their names forwarded to the committee that selects the All-State teams.
Manago's All-State honor is the third of her career at LHS. She was a second-team selection as a freshman and made the first team last year. She scored three goals and had six assists this year despite playing the entire season with a hip injury.
"She plays very hard from start to finish," Elkins said. "Sometimes it amazes me how she's able to keep up the intensity for an entire game."
Elkins compared Manago's work ethic to that of 2004 senior Lindsay Robinson, a former All-State first-teamer who has played the past two seasons at Missouri Southern State University.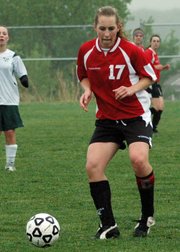 "(Robinson) was in real good physical shape and I never needed to take her out," Elkins said. "She could play 80 minutes and three overtime periods and never need to come out. Bianca is the same way. And when I do take her out, she takes a drink of water and comes over to me and says, 'I'm ready to go back in.'"
Nietzke also was used to playing lots of minutes. In fact, she played every second of every game this year as Lansing's starting goalkeeper. The sophomore logged seven shutouts this year, but arguably her finest performances came in losses to top-tier opponents such as Aquinas.
Nietzke's goals-against-average was just shy of two goals allowed per game, but Elkins said that statistic didn't factor into the coaches' decision when making her a first team selection.
"It's tricky with goalie stats because you can have a team that has lots of shutouts that can be attributed to a really good defense that rarely allows a shot to be taken on goal," Elkins said. "Katie faced a lot of shots."
"Soccer coaches communicate with each other," Elkins added. "We collaborate. I think coaches talk about Katie. When they say, 'What do I look for when I come to play Lansing,' they identify a few key players, and they talk about Katie. Word has gotten around that Katie's a pretty good goalie."
Nietzke's primary helper on the defensive end was Hauver. She was Lansing's top defensive player all season, and Elkins said she was another player coaches were talking about.
"Abby was really dominant on the defensive third of the field," he said. "A lot of times I had coaches say to me, 'Abby Hauver is a really good player. She saved you a number of times and prevented goal-scoring opportunities on numerous occasions.' A couple of times I was e-mailed by other coaches about her and I would forward those e-mails to Abby."
Elkins said the decision to play Hauver on defense the past two years was made because that was where her team needed her the most.
"A lot of teams make it a point to put a really strong player at center defender because you need to have somebody strong there," Elkins said. "Abby would like a little more action playing up front, but she does such a good job back there that it's hard for me to move her."--