Tales from the war zone
Fort Leavenworth collects oral histories to preserve memories, lessons from Iraq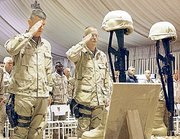 Fort Leavenworth — Timothy Mace had spent 26 years in the U.S. Army, climbing his way through the enlisted ranks to the status of command sergeant major - a former drill sergeant, as tough as they come.
It wasn't until the Battle of Fallujah, in fall 2004, that Mace lost men in combat: Sgt. Jon Shields and Spc. Jose Velez.
They died on back-to-back November days as one of the Iraq War's most notorious battles raged, with Marines and soldiers fighting house-to-house in an effort to rid the city of insurgents.
"It's rough. I'm not callous, unemotional, but it's not a surprise either. This is war, kids get hurt," the veteran from St. Louis said in April, back at Fort Leavenworth. Later, he added: "At the time, though, maybe it's easier when you're in a pretty intense fight, because you really don't have time to dwell on it. Afterward, though, those (times) are rougher."
Mace's story is one of hundreds being collected by the Combat Studies Institute at Fort Leavenworth, where researchers are striving to create an oral-history database they hope will someday serve as a key resource for academics studying the Iraq War and the War on Terror.
"Our long-term vision for it is, eventually we want to have a very large collection of these interviews that historians ... can access this data and use it to inform whatever it is they're doing research on," said Lt. Col. Steve Clay, who is overseeing the project.
More than 100 of the interviews are already public, with transcripts posted online at the fort's Combined Arms Research Library Web site.
The hope, then, is that future military leaders can learn from America's war experiences now.
"Any historian will tell you that military history is relevant to the here and now. The leadership problems faced by Alexander the Great are the problems we face now," Clay said, later adding: "You find that CSI is interested not so much in the things we did well, but in the things we need to fix."
Concerns, hopes
Indeed, the histories that are public sometimes find officers and soldiers complaining openly - about a lack of equipment, or about decisions made during the course of the war.
Lt. Col. Richard Pope, an orthopedic surgeon who treated enemy prisoners of war during the initial invasion of Iraq, complained a Mosul-based U.S. Army medical unit refused to treat Iraqi patients under the age of 10.
"I had a huge problem with it," he told a CSI interviewer in March 2005. "The fact that they wouldn't accept the patients even after we offered to give them a small amount of the supplies they needed."
Delivering the treatment, Pope said, helped smooth the way with Iraqis who might otherwise support the insurgency. He told the story of a village imam who saw Pope's team treat an Iraqi man who had suffered minor gunshot wounds.
"The comment he made to me is that, 'I don't like U.S. soldiers being here. I don't like the influence you're exerting on our country. But when I see what you, as doctors, do for my people when they're wounded, it softens my heart towards you,'" Pope remembered. "Otherwise, this guy would have spit in our eye the first chance he got, but what we were doing medically for those people in that area changed his mind about the U.S."
Encountering Hussein
The transcripts also contain moments of light comedy amid the grimness of war. Lt. Col. Wayne Sylvester ran "Camp Cropper" in Baghdad, where many senior officials of the fallen Iraqi regime - including Saddam Hussein - were held.
"I approached him strictly from a professional aspect in that he was a detainee, I was the camp commandant," Sylvester said in an interview in October. "He was required to comply with the rules and requirements."
But Hussein, he said, was determined not to be treated like a prisoner - for instance, refusing to take meals through a hatch in the cell door. When Sylvester commanded that Hussein take his meals like other prisoners, the former Iraqi president started a hunger strike.
It didn't last long.
"After about three days, he saw our side of things," Sylvester said.
"He got hungry?" the interviewer asked.
"He got hungry," Sylvester said.
But Saddam still retained his power to intimidate Iraqis, Sylvester said - a power that diminished slowly.
"He immediately intimidates a room full of Iraqi officials," Sylvester said. "If you go into a room with Iraqi citizens, with Iraqi government officials in it, they still haven't shaken off the intimidation factor that he held over them for all those years. In their first meetings to (go over) criminal charges against Saddam, after sovereignty was declared, they were very intimidated by him. In most meetings he was very abrupt with them and frequently got to the point of calling them names and dismissing their actions.
"Over time," Sylvester said, "the investigating judge and other officials became more certain of their authority and they were not intimidated by him."
'Needed to die'
Many of the interviews are less concerned with the rigors of combat than with the details of logistics - how units trained, how commands were issued, how Marines and soldiers learned to work with each other.
But other interviews display the lack of sentimentality among professional soldiers about the viciousness of war.
Mace, for example, said his soldiers were careful to avoid killing civilians. But they took a harsher attitude toward everybody else in Fallujah.
"I'm telling you that except for those unarmed combatants and they were left alone, escorted out of the city, protected anybody else in that doggone city that died, they needed to die," Mace said in his interview.
Another soldier at the Battle of Fallujah, Maj. Erik Krivda, agreed. He said insurgents often ran between gunfights without a weapon - thinking U.S. forces wouldn't fire on unarmed individuals.
The insurgents, it turns out, were wrong.
"We kept finding these caches strategically located throughout the city. So they'd run from one to another without a weapon, thinking that we wouldn't shoot at them," Krivda said. "But at that point, we were 100 percent sure that everyone to our front was enemy, and we were coming through to kill everything we possibly could as we came through the city."
Clay said it's too early to see what lessons are drawn from CSI's work. What's notable, he said, is how candid soldiers are about their time in Iraq.
"In the (interviews) I have read, is really how matter-of-fact the interviewees are in their discussion," Clay said. "For the most part, they don't pull any punches. But they don't go out of their way to denigrate anybody."