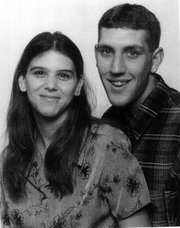 Christina Chastain and Jason Crooks announce their engagement. The couple plan to exchange their vows at 6 p.m. Friday, July 21, 2006, at First Christian Church, 130 N. Sixth St., Leavenworth.
The future bride is the daughter of Randy and Terri Chastain, Leavenworth. She received her high school diploma from Straford Career Institute, and is employed at Homers.
The future groom is the son of the late Joe and Barbara Crooks. He is a member of the Lansing High School Class of 1999, and employed at Leavenworth Fence Co.
A reception at VFW will follow the ceremony. The couple will honeymoon in Las Vegas and will reside in Lansing.