Despite a little rain, Lansing
DAZE

shines
It couldn't have been a true Lansing DAZE without a little rain.
But despite Saturday's afternoon showers, festival organizers rejoiced about the balmy weather that arrived for the festival.
Photo Gallery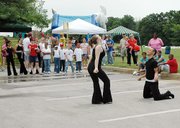 Lansing DAZE 2006
Lansing DAZE 2006 was June 9-10 on the grounds around Lansing City Hall.
"The weather played a little havoc on some of the stuff on Saturday," said Shanae Randolph, director of the Economic Development/Convention and Visitors Bureau and a primary organizer for Lansing DAZE 2006. "Fortunately it cleared up to where we had a wonderful fireworks display.
"Overall we were very happy with the event."
Although weather held through the golf tournament and music Friday evening, Saturday's overcast skies foretold the arrival of a Lansing DAZE tradition that Randolph knows too well.
"Since I've done this - this is my fifth year - every year it's rained," Randolph said. "Luckily, we were very fortunate this year that it only came down for a little bit."
Police Chief Steve Wayman estimated that 3,000 people turned out for the festival, but Saturday's crowd quickly thinned as the grey skies turned to showers and vendors rushed to keep their merchandise dry.
Saturday's weather could not discourage many festival-goers however. By sunset, shafts of light streamed over the returning crowd, which gathered to share music and friendship before the fireworks finish. It was just what Linda Lockwood, head organizer for the "On the Run" 5K race portion of Lansing DAZE, was hoping for.
"The fireworks display was very good," Lockwood said. "We visited with friends and it was a very nice evening.
"I'm not real sure I've seen better fireworks, they were just wonderful."
But Jamie Miller, lead power technician for the display, said the show would pale in comparison to what he plans for the Fourth of July fireworks - not that a lot of work didn't go into the Lansing DAZE show.
Miller used a computer connected to more than 4,000 feet of wire to synchronize the charges in Saturday's show to music he selected for the display. Miller controlled the fireworks from a laptop just outside the Overlook Restaurant, but the wires stretching across Towne Center had been put in place hours earlier.
All the hard work paid off.
"Jamie Miller and his crew that does the fireworks show just continues to amaze everyone," said Randolph. "They do a phenomenal show."
See daze, page 7A