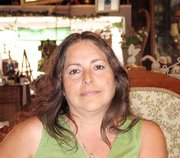 The allure of the ancient is Wanda Thrasher's specialty. Collecting fragments of the past is a passion that has shaped much of her life and even taken her on a few adventures.
"I've been interested in antiques for about 30 years now," said Thrasher, owner of Berkay Antiques in Leavenworth. "I think it's neat to own something that has some history to it."
It was on one trip in particular that Thrasher acquired most of the antiques she now houses at her shop in Leavenworth. She traveled all the way to the antiques markets in Belgium with her husband to search for pieces of the past.
"We rented a huge truck from Germany and we drove there," she said.
Thrasher had her sights set on one location in particular, a large outdoor flea market in Belgium. In the early morning hours, Thrasher sifted through the antiques in the market stalls, moving as quickly as possible to locate and negotiate for her favorite treasures.
The system of purchase at the markets in Belgium was a little different from that in the United States, she said. Instead of taking the item you're buying at the time of the sale, you collect all your purchases when the market closes. While this helped her move quickly through as many items as possible, she found that retracing her steps later proved to be a challenge.
"You try to remember all the people you bought from," Thrasher said. "You wonder if you picked up everything or if you forgot something.
"I know one thing was left there on the sidewalk for me."
Among the purchases she made, two items in particular stand out as Thrasher's favorites, a china cabinet and a "very old" backgammon game. Both embody the spirit of the past that Thrasher strives to preserve.
"The pieces are made out of ivory," Thrasher said of the backgammon game. "It's at least 150 years old; and so is the cabinet."
Name: Wanda Thrasher
address: 204 Cottonwood Dr.
Occupation: Antiques retailer
Family: Jim, husband; Shannon, 36, Kyla, 13, daughters; Ben, 30, Brinton, 20, Kalon, 16, sons
How long have you lived in Lansing and what brought you here? Military brought us here. We moved here in '96.
What do you like most about lansing? Small town and close to Kansas City.
What do you do for fun? We go to the movies a lot. Leavenworth Main Street.
What would surprise people about you? Most people don't know that I'm Puerto Rican.
What organizations or clubs do you belong to? Board member, Leavenworth Main Street; First City Antiques Association.