Flag goes up at Twin Oaks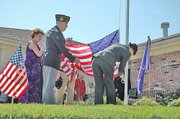 It took Deb Eyerly seven years to raise the flag now flying at Twin Oaks Assisted Living community - but she wasn't to blame for the delay.
The problem was that there was no pole.
Although Eyerly has searched for an outlet in the community that could install a flagpole for the facility for years, no one had ever followed through on a promise.
"We checked with quite a few people who then seemed to vanish off the face of the earth," said Eyerly, executive director of Twin Oaks. "The building has been here for seven years. We have been trying to go ahead and get a flag for that time."
Eyerly's hope was finally realized Wednesday during a dedication ceremony for the new flagpole, a flag and a lighting installation. They were donated by Veterans of Foreign Wars Post 12003 and Besel Heating and Roofing.
Eyerly's luck changed when Mike Howell walked through her door.
When she asked him about finding a group that would be willing to install the flagpole, Eyerly was amazed at how quickly Howell acted.
"He called back, I think within the same week and he said, 'We'll get that done for you,'" Eyerly said. "I still can't believe it."
But for Howell, who recently became commander for VFW Post 12003, procuring a flag and the pole for the community was relatively simple, and he knew that the addition of a flag would make a big difference to residents of the community.
"They're very proud of their country," Howell said. "They had a flag flying over the door, but every time they came outside it would slap them in the face."
Although it took seven years for Eyerly to finally see a flag flying at Twin Oaks, Howell dug the hole and poured the concrete for the flagpole in a matter of hours. All in all, he said it cost less that $100 to get the flagpole installed. It would have cost more, however, without the donation of the lighting installation from Besel. But Howell was not prepared to let a relatively small expense defeat what he saw as an important addition to Twin Oaks.
"For that little bit that you can bring so much joy," Howell said. "We were prepared to pay for the electrical.
"For me it was a labor of love, and if I had to do it over again I wouldn't care if the post approved or not - I'd pay for it out of my own pocket."
The new flag was dedicated in a ceremony attended by Howell and members from VFW Post 12003, Eyerly and City Administrator Mike Smith.
Officially receiving the flag on behalf of the community were Bill Thompson and Glen Eikenbarry, two veterans residing at Twin Oaks. Thompson is a retired master sergeant and former paratrooper with the special forces of the Office of Strategic Services - the predecessor of the CIA. He was happy to be involved with the dedication.
"I think it was well done," he said. "It's been needed."
Thompson's service included jumping into France to work with the French resistance. Later he served in China, where he again found himself a part of history.
"I was with a team of three that accepted the surrender of the Japanese (in China)," he said.
It's for the residents like Thompson that Eyerly has worked so long to procure a proper flag.
Eyerly knew it would happen eventually, but after seven years, she didn't expect it to happen so quickly.
"It was meant to be - we just didn't know when," Eyerly said.