Kroll, Blankenship repeat as top placers at Lansing
DAZE

5K
Seventeen minutes and nine seconds after the third-annual "On the Run" 5K race started Sunday, Alan Kroll crossed the finish line, the first from a field of 112 participants.
Kroll's secret for success is simple.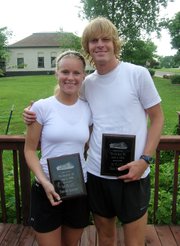 "Train," he said. "The work and preparation for the race will get you your result."
And for the second year in a row, Kroll's advice has proved prophetic, with two consecutive first-place finishes in the run that takes place as part of the Lansing DAZE festival.
The runners started at 7:30 a.m on a course that looped from the museum on Kansas Avenue to Highway 5.
In the coming weeks Kroll plans to run 10-12 miles every day to train for tryouts for the University of Kansas track team in the fall.
However, he will still be back next year for the race.
"As long as they keep having it," he said, "I'll keep showing up. It's a fun event."
Another repeat winner - and like Kroll, a Lansing High alumnus - was Cassie Blankenship. She was the first woman to cross the finish line, completing the course in 21 minutes and 28 seconds.
This was Blankenship's third-consecutive win, and she enjoys the event because of its friendly runners.
"There's a lot of good people in this race pushing you," she said.
This year there were even more friendly runners, as the event grew from 65 runners in 2005 to the 112 participants Sunday, according to Linda Lockwood, president of the Lansing Historical Society, which sponsored the event.
Lockwood joked that because planners only expected 100 runners this, more showed up this year than expected on race day.
The $15 registration runner will benefit the new Kansas Regional Prisons Museum.
Other top finishers were Griffin Davis (19:27) and Carl Fischer (19:33) for the men and Melanie King (21:55) and Julie Angello (22:24) for the women.
While claiming his plaque as the third-place male finisher, Fischer, 47, joked that he was older than the other top two male finishers combined, who were Kroll, 20, and Davis, 16.