A new direction
After successful run as basketball coach at Liberal, Briggs aims to rebuild program at Lansing High
Rod Briggs can't wait for school to start. That much is certain.
After all, once the school year begins, Briggs will only have to worry about teaching social studies at Lansing High, coaching the defensive backs for the varsity football team and making final preparations for the winter when he will begin his first season as Lansing's new varsity boys basketball coach.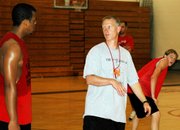 Sound like a lot? That's nothing compared to Briggs' current schedule of coaching two sessions of summer basketball camp at LHS and closing on a house in town.
Although the stress of moving has been wearing on Briggs, he said it hasn't dampened his enthusiasm for basketball.
"I'm just really excited to be here," Briggs said. "The guys have been working really hard for us this week."
Briggs' hiring became official Monday evening when he was appointed by the Lansing School Board to take over the program. He replaces Don Allen, who resigned in April after nine years in the post.
Briggs brings with him an attractive resume. Despite going 6-15 in his final season at Liberal, he proved he knew how to build a program. He inherited a team that went 2-19 the year before he arrived. Liberal went 6-16 in 2003, Briggs' first season. The next year the Redskins went 15-8 and earned their first Class 5A state tournament berth since 1997. The following season they went 17-5 and spent almost the entire season ranked No. 1 in the state.
Briggs' successful past gives Lansing's current players optimism about what their future holds, LHS senior-to-be Jeff Jackson said.
"He's a really hard worker and he really cares," Jackson said of Briggs. "He gets out there and shows us what to do, and I think he's a really good coach. We just all need to step up our game and work hard."
Jackson said during camp Briggs emphasized up-tempo play.
"He wants every play to be a fast break play," Jackson said. "Everything's just fast paced. It's still focused on the post a lot, but it gets everybody involved."
Briggs' primary assistant will be Ben Doll. Doll also will coach social studies at LHS. He previously taught social studies at St. Thomas Aquinas High School in Overland Park. He also was a volunteer assistant basketball coach at Johnson County Community College.
Rounding out the coaching staff will be Bill Pekarek. Also the head football coach at LHS, Pekarek has been the freshman boys basketball coach in recent years, and he will retain those duties on Briggs' staff.
Pekarek said he was impressed with Briggs and Dahl, and he said he was excited to remain a part of the coaching staff.
"I'm the new guy now," Pekarek said with a chuckle. "They're on the same page about what they're doing.
"I've been in basketball camp the last couple days in the afternoon and I think (Briggs) is on the ball. I think he's doing a great job with the kids. He's working them hard. He's fundamentally sound."
Although Briggs' primary coaching duties will be with the basketball program, he also will be a football assistant coach on Pekarek's staff. Pekarek said Briggs would be a welcome addition to the program.
"He will be a big plus to our program," Pekarek said. "He has given me the impression that he's going to do everything he can to help our program, and that's what I'm trying to do when I help his program. It's good for both of us. It's good for the football and the basketball programs."