Quick action averts festival tragedy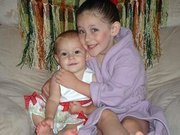 Lansing DAZE 2006 will be memorable to the Krause family of Lansing - but not because of the children's entertainment, crafts booths, food or regular festival fare.
Instead, the Krauses will remember the festival for the fast actions of emergency personnel that helped bring 1-year-old Brianna Krause out of a seizure and into safety.
On the Saturday afternoon of the festival, Bliss Krause, the toddler's mother, was feeding Brianna in their car, which was parked in the lot outside Rock Creek Medical Plaza. The family had been visiting Lansing DAZE and had just headed for the car.
"She started the eyes rolling in the back of her head," Bliss Krause explained. Though she said Brianna had never suffered a seizure, Bliss Krause knew something was wrong.
The Krauses had just passed by a row of emergency responders - Leavenworth County EMS, Leavenworth County Fire District No. 1, Lansing Police Department and the Kansas Highway Patrol - who had set up displays at the festival.
Bliss Krause's husband, Doug, immediately took the girl in his arms and ran the child up the parking lot hill and to the responders.
Police officers initially thought the child was choking, said Ric Huhn, Leavenworth County Fire District No. 1 chief, but James Frick and Jamie Miller, both of whom are paramedics, discovered she instead had overheated.
"They were able to cool her off, get her body temperature down, and she stopped seizing," Huhn said.
Bliss Krause said she was grateful for all of the help.
"They just took over from there and immediately started treating her," Bliss Krause said.
After stopping the seizure, Brianna was taken by a Leavenworth County EMS ambulance, to Cushing Memorial Hospital.
After an overnight stay, Brianna is back home and "is doing wonderful," Bliss Krause said.
Bliss Krause said she was glad Brianna was in the right place at the right time.
"She just turned 1 last month, and I could not have imagined if the right people were not there," she said.
Krause said Miller, EMS director and the coordinator of the festival's fireworks show, performed wonderfully, as did all of the police, firefighters, paramedics and others on hand.
"There were a lot of people out there, all of them very concerned," Bliss Krause said.