For Safe Harbor, success is bittersweet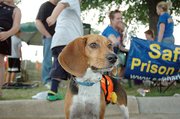 Though its volunteers agree that the Safe Harbor Prison Dogs program is doing better than ever, it's hard for some to forget about those that could not be saved.
Since August 2004, Safe Harbor has rescued and placed more than 1,150 dogs into homes in the community, and despite momentum being greater than ever, the program has yet to outpace the number of dogs sent to animal shelters in the community. Confessing "no vacancy" is difficult for many in the program.
"It would be very hard for anyone to know that they're going to die," said Wendy Peterson, one of the founding members of the program, which attempts to rescue animals scheduled for euthanasia at shelters and to place them in good homes in the community. The dogs that go to homes have been trained by prisoners at the Lansing Correctional Facility.
"I get a call usually every week from at least one or two (animal shelters)," Wendy Peterson said. "Probably on an average we turn down four or five dogs every week, even more."
But even when the phones aren't ringing, Safe Harbor volunteers know that the problem persists.
"When we're full, we're full. And sometimes they don't even call because they know," Wendy Peterson said.
On June 10, Safe Harbor made an appearance at the Lansing DAZE festival, where the program found homes for eight dogs. Although a successful adoption is always a cause for celebration, there is always more need.
"You always hope for more because we have so many (dogs) on hold," Wendy Peterson said. "It's just a backlog-type situation."
But solving the problem is not as simple as letting prisoners take more dogs. Brett Peterson is also a volunteer for Safe Harbor, and he knows that expanding the program isn't just a matter of boosting the number of dogs being trained.
"I think it's not an issue of having more dogs in the program," Brett Peterson said. "It's about moving more dogs to good homes out in the community."
In Brett Peterson's view, the growth of the program is steady and proper, and the impact on the community has been dramatic, especially considering that the 1,150 rescued dogs are no longer able to produce new litters.
"I think that Safe Harbor is just exactly at the point where we need to be," Brett Peterson said. "We're building, we're continuing to grow as a program, our adoption numbers are consistent and I think the quality of the dogs we're working with has gotten better.
"If I had a wish list, I don't really know what would be on it."
But it's not always easy for volunteers who are unable to save dogs from euthanasia to be patient for the time needed for the gradual expansion. Janet Florence, a program volunteer, also knows the feeling, and she welcomes growth of the program.
"We would always hope that it would expand," Janet Florence said. "We can save more dogs; that's the whole point."