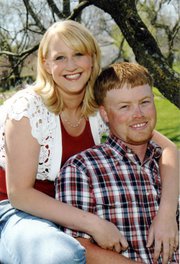 Renee Zule and Benjamin Porter, both of Easton, announce their engagement.
The bride-to-be is the daughter of David and Theresa Zule, Easton. She is graduate of Pleasant Ridge High School and plans to graduate in 2007 from the University of Kansas. She is employed with Drs. Norris and Kelly Family Eye Care and Country Care Inc., both of Leavenworth.
The prospective groom is the son of Kenneth and Karen Porter of Leavenworth. He is a 2001 graduate of Lansing High School and is employed as an equipment operator by Linaweaver Construction.
The couple plan a July 15 wedding at St. Joseph Catholic Church, Leavenworth.