Banker named top volunteer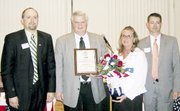 Leavenworth — "Some people want it to happen, some wish it to happen, other make it happen."
To Lynn McClure, Dan Gutshall is one to make it happen.
McClure, executive director of Leavenworth County Development Corp. , presented Gutshall, senior vice president of First National Bank of Leavenworth, with the Economic Development Volunteer of the Year Award at the Annual Business and Industry Celebration held June 14.
"I'm not sure I deserve it," Gutshall said about receiving the recognition. "There are an awful lot of volunteers in this county. I'm just honored to get the award."
McClure, who selects the recipient of the award each year, said he felt Gutshall was deserving and chose him because of his years of board leadership, his knowledge of the community and his "ability to get people rallied around the cause."
A native of Chilicothee, Mo., Gutshall moved to Lansing 12 years ago with his wife, Carla, and children Jeff and Kristin, to start working for First National Bank of Leavenworth.
In 1995 he began volunteering for the Leavenworth County Development Corp. as a marketing committee member.
"That's how I got in the door," he said.
In the years that followed, Gutshall worked up the ranks in the organization to eventually join the executive committee and serve as president of LCDC from 2003 to 2004.
This past year, while planning for the opening of a new branch of First National Bank in Lansing, Gutshall estimates he has volunteered with LCDC and the Leavenworth County Port Authority for about 10 hours a week, in addition to working full time at the bank.
Currently, Gutshall is focused on the opening of the new branch, which will be at the intersection of Main and Mary streets in Lansing. Construction is scheduled to start in 30 to 45 days and the bank will open for business in the spring of 2007, he said.
Gutshall looks forward to the bank's opening because it will bring significant capital to the community, which will develop the core from which the city can grow.
He thinks that because of the positioning of Lansing on Kansas Highway 7, the community and its demographics, the future is promising for the city.
"The sky's the limit for Lansing," Gutshall said.