Bomb scare in city
Local, federal authorities investigate device found in mailbox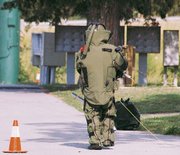 Authorities continue their investigation into what they're calling a bomb that was placed in a mailbox at a mobile home park in southern Lansing.
The Leavenworth Bomb Squad detonated the device about 9:30 a.m. Wednesday, June 21. They used a charge and a detonation cord about 50 yards away from the mailbox at Wiley's Wild Woods Mobile Home Park, 921 S. Main St.
"We're thinking it was a bomb right now," Lansing Police Chief Steve Wayman said shortly after the device was detonated."
Wayman said Lansing Police and U.S. Postal inspectors were collecting fragments from the blown-up device to send to an FBI lab to try to determine exactly what it was.
"They'll be able to tell us what kind of material it was, what it was," Wayman said.
Bruce Wiley, owner of the mobile home park, said he was glad the incident didn't cause any injuries but speculated whether it was as serious as police were making it out to be.
"I was out here a few days ago and there were pieces of a radio laying out here (in the grass) - I think it was pieces to a radio or something," Wiley said of material he had previously noticed near the mailboxes. "Kids are always up here goofing around, so I wouldn't be surprised if that was what happened."
Wayman said authorities would have to wait for the lab results, but added, "Somebody went through a lot of effort to make this look like a suspicious package. They put some time and effort into this, beyond what a kid playing would do."
Wayman, one of about a dozen law enforcement officers on the scene, said emergency dispatchers had received a call about 7 a.m. Wednesday from somebody saying they were picking up mail from the community box when they noticed something suspicious: wires protruding from one of the boxes.
Wayman said officers blocked access to and from the park, evacuated homes closest to the mailboxes, at the northwest end of the mobile home park, and called in the Leavenworth Bomb Squad, which includes members of the Leavenworth County Sheriff's Office and the Leavenworth Police Department. Assisting at the scene were members of the Leavenworth County Fire District No. 1.
FBI Special Agent John Tucker also arrived at the scene to offer his expertise to the bomb unit members, who worked out of the bomb squad's mobile command post, parked at the eastern edge of the mobile home park.
Authorities got an up-close look at the device using a video camera onboard a robotic machine controlled by the bomb squad. They determined it was too risky to have the robot remove the device and decided to detonate it.
Bomb squad members outfitted Sgt. William Slusher in a protective suit and helmet before sending him off with a charge to place in the mailbox. Officers stopped northbound traffic on nearby Kansas Highway, and with Slusher back in a safe zone, the charge was detonated.
Slusher, in his protective suit, returned to the mailboxes to make sure the area was safe before authorities began their search for fragments.
With the device detonated and the risk of danger out of the way, Wayman said Lansing Police and U.S. Postal inspectors would now take over investigation of the incident.
"We'll take it from here," he said.
Reporter Sam Knowlton contributed to this report.