Population estimate for Lansing seems low to city administrator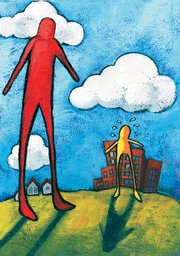 The U.S. Census Bureau's latest estimate shows Lansing's population growth is slowing. But try telling that to City Administrator Mike Smith.
The Census Bureau this week estimated Lansing's population at 10,214 people as of July 1, 2005. That's up 94 people from the bureau's July 1, 2004 estimate of Lansing's population.
But it represents an increase of just under 1 percent in the one-year time frame. That's a figure Smith finds difficult to rationalize.
"We annexed 300-and-some people," Smith said. "I can't explain that (latest estimate)."
The annexation of about 1,300 acres at the end of 2004 more than doubled the landmass of Lansing and added an estimated 300 people to the city's population, the city reported at the time.
Another factor that left Smith wondering was new-home construction.
A check showed the city issued 102 permits for single-family houses in 2005, exactly double the number it issued in 2004. Multifamily units were down for 2005, with two permits issued for the year compared to 11 permits issued a year earlier.
"We had a lot of houses go up," Smith said.
Nevertheless, Smith said he wasn't terribly alarmed by the new census estimates. He said the city paid more attention to population trends over a three- to five-year period in planning for the future.
"If you go back over that time, you see an average growth of about 200 to 250 people," he said. "That's a nice, healthy pace."
Since the decennial census was last taken in 2000, Lansing's population has gone from 9,199 people to an estimated 10,214, a growth rate of about 11 percent in 10 years. On average, the city has added about 170 people per year since 2000, the Census Bureau estimates.
"If it's slowed, I think it'll pick right back up," Smith said. "Lansing has been known for being steady that way."
Countywide the fastest-growing city from 2004 to 2005 was Basehor, which grew by 256 people to a total population of 3,287, or at an 8.4 percent clip. Tonganoxie added 215 people for a total population of 3,774, a 4.9 percent growth rate.
Leavenworth lost 72 people to drop to a population of 35,213. It was the third year in a row the First City showed a drop, according to the Census Bureau.
In the other two Leavenworth County cities, Linwood remained steady at 382 residents while Easton lost four residents for a total population of 357.
Overall, Leavenworth County was estimated to have grown 670 people from 2004 to 2005, to a total population of 73,113. As in Lansing, that's a growth rate of just under 1 percent in the one-year period.