Can-do fireman receives award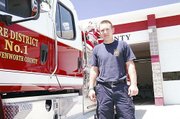 Leavenworth County Fire District No. 1 firefighter Jeff Simpson never dreamed of fighting fires, much less being honored as "Firefighter of the Year."
But since 2001, when he became a volunteer firefighter, Simpson has continued to distinguish himself for his dedication. He's known for doing whatever it takes to help his department, support his fellow firefighters and protect the safety and well-being of Lansing residents.
On June 12, his hard work was recognized by the James Lansing Taylor Veterans of Foreign Wars Post 12003, which presented Simpson the 2005-2006 Outstanding Firefighter Award.
But to Simpson, his efforts are nothing special: The job fits him like a fire-proof glove.
"I love it here, I love the hours," Simpson said. "You're always doing something different - it's hard to get burnt out on it."
Contrary to the impression that firefighters sit around the station all day waiting for calls, Simpson's job is truly diverse. Besides the training, fire station tours and cleaning of fire engines that most would expect, these days Simpson even has been helping the department handle some mechanical work.
Fire Chief Rich Huhn, who nominated Simpson for the award, cites one example of Simpson's initiative. When one of the department's trucks needed a pump replaced, the station was looking at having to spend $20,000 to get it fixed, Huhn said. He asked Simpson and some of the others to examine the truck and figure out if there might be anything they could do aid in the process.
"I went to a meeting and I came back later and they'd got the truck all tore up," Huhn said, recalling the shock and alarm he felt.
But Huhn's attitude quickly changed when he realized they had gone ahead and removed the pump for the mechanics.
"They had stripped it out and got it ready to go," Huhn said. "It saved us about six grand from having to have the manufacturer come up and take it out."
But Huhn says going the extra mile comes naturally to Simpson, and that it's nice as an administrator to not have to always be assigning tasks.
"He's one of the kind of guys that when we talk about needing to get stuff done, before you get a chance to go do it, he's already on it," Huhn said.
Since Simpson became a firefighter in 2001, he has achieved the grades of Firefighter I and II and earned licenses for all district equipment. But what's been the hardest part for Simpson was the nine months of classes preparing for his EMT-B certification exams.
It's being a medical emergency first-responder that presents the hardest part of the job for Simpson. Of the near 850 calls the district receives each year, Simpson guesses that 40 percent are medical emergencies.
"With the house fires, you're sad that someone's house has burned, but with the medical calls, you know someone's hurt," Simpson said. "You come across little kids that are hurt and you start wondering where your kid is.
"Some of that stuff is pretty tough."
Simpson is committed to the professional path he has chosen, even if he never expected it. At the end of the day, he loves his work. Call it a burning passion.
"I never thought my entire life that I'd be a firefighter, much less a paid firefighter," Simpson said. "I love doing everything, there isn't any one particular thing.
"It's the thrill-seeker in me I guess."