Leavenworth County unveils new voting machines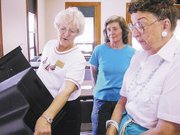 Instead of Bush or Gore, the "candidates" on this ballot were vanilla, chocolate and strawberry.
Leavenworth County Clerk Linda Scheer used the question "What is your favorite flavor of ice cream?" and these entertaining flavor responses to demonstrate to the elderly at the Leavenworth Senior Center how to use the county's new iVotronic touch-screen voting machines.
Nearly 40 people gathered Monday at the Riverfront Community Center to hear Scheer's presentation on the new machines that will be used throughout the county, starting with the Aug. 1 primary.
Scheer emphasized that the new machines were "easier to read, take less time and have less of a chance for error," than paper ballots. The news seemed appealing to those who heard the presentation.
"I like it because older people, glasses or not, can read it," said Nadine Grafe, Lansing, in reference to the large print on the touch-screen.
During her presentation, Scheer made it clear that the voting machines, although they look like computers, are actually touch-screens. Scheer said she did not want the elderly to be anxious of using the new technology, even if they had experience with computers.
"I'm not a computer person, but I didn't see anything wrong with it (the voting system)," Grafe said, "You've got your privacy and it seems very simple."
Beatrice Berg, Leavenworth, worried the new machines would be more difficult to understand than the paper ballots, if there was not someone to offer step-by-step guidance through the actual voting process.
"I think it's a little more complicated than before," Berg said, "and it's going to take more time."
Scheer talked about the benefits of the new machines, one of which being they will inform voters when too few or too many candidates have been marked. Previously, when there has been an "over vote," the paper ballot was ruled invalid. But with the new voting machines, a screen comes up warning the voter that they selected too many candidates and need to deselect one to submit their ballot.
The feature pleased Miriam Seute, president of the Leavenworth Senior Center.
"I like that you can't over vote," Seute said, "You can't ruin the ballot."
Of the $516,000 cost for the machines and equipment, the state of Kansas will pay about $289,000 of the cost with county taxpayers picking up the remainder. The machines will get their first official use in the Aug. 1 primary, when they will be in each of the county's polling precincts.
Scheer will be in the community educating residents on how to use the machines and will give another demonstration of the machines on June 29 at the Lansing Community Center.