Lions shine at All-Star showcase
Slater, Robbins provide highlights on tough day for Kansas All-Stars
Liberty, Mo. — The offensive highlights were tough to come by for the Kansas All-Stars on Thursday at the Metro All-Star Challenge football game, but Lansing's Jeff Slater provided one of the few bright spots in a 21-7 loss at William Jewell College.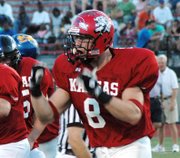 Slater rushed for 35 yards on seven carries, but his breakaway down the sideline midway through the second quarter breathed new life into the Kansas club when it desparately needed something to cheer about.
Trailing 14-0, Slater took the handoff on a third-and-one situation. He broke to the right, shook off a tackler and raced down the sideline 25 yards. It was the third longest play of the game and longest run for either team. It also gave Kansas first and goal at the nine-yard-line.
Anthony Riley of Olathe East made a six-yard reception on the next play that moved the ball to the three-yard-line, but Kansas was unable to score on the possession.
"I wish I would've got in the end zone," Slater said of the run. "I almost got tackled at the line of scrimmage, and I broke the tackle. It was pretty exciting because we were down 14-0 and we weren't having anything going. Then I busted that one."
Photo Gallery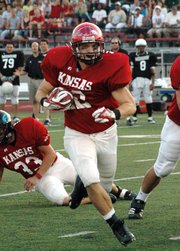 Metro All-Star Challenge 2006
Slater's run rejuvenated an offense that had struggled all game. Kansas scored on its next possession when quarterback Tyler Lawrence of Shawnee Mission West connected a 34-yard strike to Stephen Blumhardt of Blue Valley. Blumhardt's over-the-shoulder catch brought Kansas within 14-7 at halftime.
The Missouri All-Stars scored on their first possession of the game when Mike Stadler of Harrisonville scored on a one-yard plunge up the middle. Missouri added a second-quarter touchdown when Jordan Pellock of Blue Springs recovered a fumble and raced 23 yards into the end zone. After that, Missouri didn't score until 2:11 remained in the game. That's when Michael Lackey of St. Pius X connected with Grandview's Tim Vincent for a 20-yard touchdown pass that iced the game.
Kansas' primary problem all game was its inability to move the ball on offense. Slater was one of the few players who moved the ball effectively.
"I felt like I did my job," he said. "I was getting four or five yards on first downs. I was supposed to get short yardage plays, and that's what they used me for."
Despite having University of Kansas signee Lawrence at quarterback, the passing game rarely was effective for the Kansas All-Stars. The primary cause for his struggles was poor blocking. Most of that had to do with poor timing. The Missouri All-Stars had similar troubles. The reason for that was both teams had only eight days to practice.
"We weren't shy about throwing a lot of stuff at them," said LHS coach Bill Pekarek, the offensive line coach for the Kansas All-Stars. "We threw a lot of stuff at them in eight days, and I thought maybe we should have been a little more simple."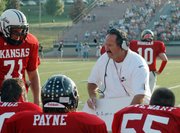 One player who benefited from the offense's struggles was recent Lansing graduate Ryan Robbins. He started at defensive end for Kansas and recorded five tackles and a blocked pass. Adding to the significance of his stats was the fact that most plays went to the opposite side of the field from where he was playing.
"We held our own on our side," Robbins said. "As for the defense, the whole line I thought did a good job staying outside and keeping our containment."
Pekarek said he enjoyed participating in the All-Star game, and he also said he was proud of the way Slater and Robbins represented Lansing.
"Sometimes people question if your program is competitive with the 5As and 6A's," he said of the larger class schools. "I think we had two athletes in this game that were as good as anybody else's."
The game provided a number of memories for Lansing's players. Slater said he'd remember the numerous helmet-to-helmet hits he received, as well as his electrifying run down the sideline.
For Robbins, the friendships he formed were the greatest highlight.
"Just being able to play and practice with guys this good and being able to participate in a game like this was great," he said. "I think the best part was making friendships. I talked to a couple of (the guys), and they told me they'd be watching me. I was talking to Cody Scribner (of Blue Valley), and I told him I'd be watching him at Central Missouri State. He said the same thing to me."
Robbins and Slater will play college football in the fall at Dodge City Community College. They report to campus July 3.