GOP

hopefuls to debate
Gubernatorial candidates to appear in Leavenworth
At best, it's a crisis of partisanship. At worst, it's utter indifference.
Encouraging youth involvement in politics is not futile however, say two professors from Kansas City Kansas Community College. They believe they can change students' attitudes, and they're finding the perfect forum to do it. Actually, they're creating it.
"Young people today seem so uninterested in politics," said Ernest Evans, professor of American government at KCKCC. "It's not just apathy, what I find is disgust.
"The idea is to try and get people to realize this (government) is important in their lives."
To engage his students, Evans is working with colleague Richard Kiper, who is also the president of the Leavenworth County Republican Party. They will moderate a forum for Republican gubernatorial candidates at 7 p.m. Tuesday, June 27, at Leavenworth's Riverfront Community Center.
Three candidates will appear - Sen. Jim Barnett, Ken Canfield and Former House Speaker Robin Jennison - to answer questions from students and the public. The candidates are preparing for the primary Aug. 1 that designates the Republican candidate to run against Kathleen Sebelius for governor.
But for Evans and Kiper, far more is at stake than a few extra votes.
"We have almost no youth participation in politics," Evans said. "People have just given up on the electoral system."
To revive students' hope, Evans raises issues in class and requires students to formulate hard questions about issues. Soon he'll see that they get their answers. But he hopes the forum will be more informative than inflammatory.
"I'm not really interested in what we call a food fight, if anyone gets up and starts baiting any of the candidates, I'm going to slap them down in a hurry.
"We're going to try and have a civilized discussion of the issues confronting Kansas.
And a bipartisan discussion as well. Though some may suspect Evans' agenda for arranging the forum, his affiliation suggests otherwise. Because he is a registered Democrat, some find it odd that Evans would team with Kiper, the head of Leavenworth County GOP.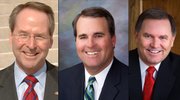 "I joked with him when we had lunch," Evans said. "that I'll be expelled from the Leavenworth Democratic Party for associating with the vast right wing conspiracy."
But Kiper, a professor of American history, agrees with Evans that differences are best put aside in the interest of the next generation.
"Their future is at stake," Kiper said. "The sooner you can make the political process relevant to people, and the sooner they can understand how their vote or their involvement can make a difference in how government functions, the more effective citizen that person will be."
It's a belief that Kipers and Evans share: Well-informed decisions will always defeat entrenched partisanship in a landslide.
"The only way you're going to do that is if you understand the issues that are out there," Kiper said. "Whether you're a Republican or Democrat that's going to matter."