Assistant clerk likes challenges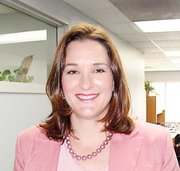 Keeping herself challenged is Tracy Howard's forte - and pleasure.
As the new assistant city clerk, she's been both amazed and delighted at how much she has learned in the short time since she began.
"I've just been here for a week and a half and already I've done so much," she said.
For Howard to feel busy in her new job is proof that it requires quite a bit of effort. Howard used to be the general manager of Leavenworth's Habanero's restaurant, a stressful job she left so she could spend a little more time with her family.
Because some of her present and former duties overlap - like helping with payroll - it has been a smooth transition. Howard describes herself as a dedicated worker in anything she does, and she hopes that the skills she has honed can now benefit the whole town.
"A lot of my background knowledge and experience : I can use all of that to benefit the city of Lansing," Howard said.
Outside of work, Howard has aspirations to become a serious road cyclist. She said her husband, Bill, was "really big into cycling" and even rode across the state. It's a challenge that is appealing to Howard, who used to be an "avid runner." But she hasn't begun training yet, since she had been so busy managing Habanero's.
"In a couple years I'd like to do that, but I'd have to build up to it," she said.
Along with her husband, Howard also likes to dedicate time celebrating her Irish heritage.
Whether helping organize the St. Patrick's Day parade or going to Irish folk music performances, staying true to her ancestry is something she deeply enjoys.
"We're Irish groupies, I guess," Howard confesses.
Name: Tracy Howard
Address: 19373 Santa Fe Trail, Leavenworth
Occupation: Assistant city clerk
Family: Bill, husband; Blake, 22, son; Alison, 19, daughter
How long have you lived in Lansing and what brought you here? Parents moved here when I was 3 years old. It was the school district they liked.
What do you like most about Lansing? It's still a small town. People seem to return here a lot. That says a lot for the town.
What do you do for fun? Cycling, attending all the Irish festivities, reading.
What would surprise people about you? I'm very professional yet at the same time I'm very down to earth - but I'm still a lot of fun.
What's the best advice you've ever received? Always do more than what's expected of you because it will pay off.