Rescuer happy her home has gone to the dogs
They're like toddlers: loyal, lovable, prone to slobbering and occasionally destructive - except they weigh about 150 pounds.
But to the Lionbergers, there's something irresistible about Great Danes. The couple recently won permission from Lansing City Council to take in their fifth dog - a fourth Dane. And though it's not always easy corralling the 850 pounds of canines crashing through her house, Amy Lionberger adores her gentle giants.
"I just love them," Lionberger said. "They're amazing dogs."
But while caring for a Great Dane is not too different from other breeds, the sheer size of the animals - often over 3 feet - causes many unprepared owners to turn the dogs over to animal shelters. On its hind legs, Nicholas, one of the Lionberger's four Danes, stands nearly 6 feet. It's not exactly the kind of dog that's welcome on the bed at night : though the Lionbergers sleep with theirs. They had to annex two twin mattresses to their king-size bed just to accommodate the whole pack. Call it a "five dog night."
But while Amy Lionberger is familiar with all the goofiness of the huge dogs, she says many people just don't know what they're getting into with Danes.
"They get a puppy and they think it's cute," she said. "Next thing you know you have a 120- to 160-pound dog on your hands.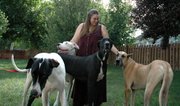 "Because they're so large, a lot of them get put down."
SHELTERED LIVES
Once a Dane is taken to the shelter, there are few who are willing to adopt such a large pet. And while Lionberger isn't hoping to adopt every homeless Dane in the area, she is willing to foster them for a short time until she can transport them to Denver.
As a volunteer for Rocky Mountain Great Dane Rescue Inc., Lionberger makes the trek to Colorado several times each year to transport Danes she has rescued to the agency.
The agency strives to find good homes for Danes that have been abandoned or mistreated while keeping the dogs in a network of foster homes. Last year the agency placed 183 Danes in loving homes, and it is on track to break that record this year.
Before a dog is placed, the adopting home must submit an application, and a volunteer even does a walkthrough of the home - with a Dane - to make sure the house is Dane-compatible and that the future owner knows what having a Dane will mean.
"We've had high success rates with placing dogs," Lionberger said. "We find a dog that fits the lifestyle you have."
One of the agency's favorites success stories comes straight from Lansing, actually. It was a Dane that Lionberger rescued.
HARLEY'S STORY
An animal control officer named him Harley, and he was rough around the edges. Leavenworth Animal Control Shelter found him stray in early March 2006 in Lansing. He was nearly 40 pounds underweight, with a severely emaciated hind section and so dehydrated he was nearly blind. He had what looked like a cigarette burn on his forehead.
Lionberger adopted Harley on March 17 and helped him begin a three-month journey to recovery. After the adoption, Harley's former owner resurfaced, wanting the Dane back despite being charged with animal cruelty, Lionberger said.
Luckily, however, Harley was kept in Lionberger's loving care, and gradually grew back to strength despite later being diagnosed with an advancing case of heartworm. On June 1, with Harley well on his way to recovery, he was taken to his final home with the animal officer who had found him. By the end of the month, his former owner had pled guilty to animal cruelty charges and agreed to pay $2,075 in fines.
A DOG DAY'S WORK
Most of the Danes Lionberger rescues don't present as severe a test as Harley, but there are plenty of dogs that still need to be taken to permanent homes, and Lionberger is committed to her service to the lovable behemoths.
To help finance the expenses of her trips to Denver and her own dogs - who eat about 160 pounds of dog food each month - Lionberger has started her own dog treat bakery, called The Spoiled Dog Barkery.
To satisfy a demand for healthy, organic dog treats, Lionberger has concocted a menu of treats for the most discriminating canine palate. She has all the taste-testers she will ever need.
"If it doesn't pass with all of them, I don't sell them," she said.