Civils to wrestle at Labette County
The Lansing-to-Labette County wrestling pipeline will continue.
That much was guaranteed May 16 when Lansing High senior Ryan Civils signed his letter-of-intent to wrestle at Labette County Community College. LHS coach Ron Averill said his program had sent about a half-dozen wrestlers to Labette County. Most recently, LHS assistant coaches Scott Terron and Brian Rees wrestled there.
Labette County coach Joe Renfro said he always was happy to welcome Lansing wrestlers into his program.
"Coach Averill and Coach Rees and Coach Terron, any guys they have in their program we're more than glad to pick up on at any time," Renfro said. "They're three good men that I trust at their word."
Renfro said he heard plenty of good things about Civils. There was his 102-20 record as a prep wrestler. There were the three trips to state, the 87 career pins and the fourth-place medal he earned at 189 pounds at the Class 5A state tournament his junior season.
"He seems like a tough young lad," Renfro said. "We'll get him in there and see what we can do. I have high expectations for any of my guys no matter who they are, and obviously he's another one we have high expectations for."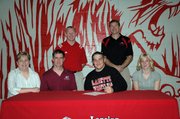 Civils said Labette County was a good fit for him for a number of reasons. He said the program there was similar to the one at LHS.
"They work really hard and they run things similar to what Averill's got, so I can fit in there much better than anywhere else," Civils said.
Few junior college wrestling programs have been more dominant in recent years than Labette County. The Cardinals were the National Junior College Athletic Association wrestling national champions in 2005. They placed third nationally in 2006 and had six All-Americans.
"They're either going to get whipped or they're going to get on top," Renfro said of wrestlers in his program.
Civils said he was prepared to work a lot harder as a college wrestler. He also said that pinning opponents - his specialty in high school - would be much more difficult at the next level.
"It's going to be a little harder, but I'm going to push that extra mile to go and get that done," he said.
Although Civils has wrestled at 189 pounds for the past three years, his weight class will change in college.
"They've got 184 or 197," Civils said. "It just depends on who's coming back to fill the positions."
Civils said he plans to study criminal justice at Labette County.