Float trip
Hauver finds friendship, success in nontraditional sport at
KSU
Megan Hauver had plenty of opportunities to be a college athlete after graduating from Lansing High in 2002.
A standout multi-sport athlete in high school, Hauver placed seventh at the state cross country meet as a senior and received numerous scholarship offers to run at the junior college level. None of those offers appealed to her, however.
"I wanted a bigger institution," she said.
For a while, it appeared sports would be a thing of Hauver's past, save a few rounds on the college intramural circuit.
That all changed once she arrived on campus at Kansas State University in the fall of 2002. Rowing recruiters tracked her down during orientation. Realizing she "needed something to stay in shape," Hauver quickly accepted a walk-on position.
For Hauver, the K-State rowing team would provide a four-year family away from home.
WHY ROWING?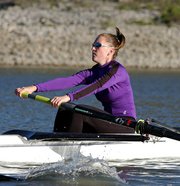 Hauver will be the first person to tell you she didn't go looking for the rowing team when she left for college. Instead, as is the case at most Midwestern universities that sponsor the sport, the rowing team came looking for her.
The typical mold for a college female rower is someone who is about 5-foot-10 and has an athletic background. That could mean previous experience as a basketball or volleyball player. That was the case for Hauver, who played basketball at LHS in addition to running on the track and cross country teams.
The philosophy of rowing coaches tends to be that if an athlete can provide the work ethic, the coach can provide the rowing know-how. Hauver bought into that philosophy her freshman season when she committed to the squad as a novice rower.
"The first year you do it isn't as intense," she said. "They keep it fun."
Hauver said a lot of information was thrown at the new rowers at once, but she said it wasn't overwhelming.
"I was with about 50 other girls that didn't know what they were doing either," she said with a laugh.
Novice rowers learn technique and timing during their first year. They also focus on getting stronger.
Like any other sports team, the rowers also form a close bond. Hauver wasn't interested in joining a sorority in college, but rowing was a sorority of sorts in that it provided a close group of friends that Hauver would spend the next four years hanging out with.
"I met most of my friends through rowing. I always hung out with rowers," she said. "That made it easier to stay with it."
EARLY EXPERIENCE
Hauver made her collegiate rowing debut at the Head of the Iowa regatta in Des Moines. She helped the First Novice Eight to a fourth-place finish out of 38 boats. She also helped K-State defeat the University of Kansas in the Sunflower Showdown that year. By the end of the season she'd made so much progress that she'd moved up to the First Varsity Four boat and eventually onto the Second Varsity Eight. It was the start to what would be a decorated career.
QUICK LEARNER
Hauver's rise to the varsity squad during her first season at K-State was an early sign that she would be a valuable contributor for the Wildcats. For her hard work, the program renewed her half-ride scholarship for her sophomore year and then gave her a full-ride her junior and senior seasons. She returned that favor with steady production for the next three years.
Patrick Sweeney took over the K-State program in the fall of 2003, and he coached Hauver for her final three seasons at KSU. Sweeney said he was impressed with Hauver from day one.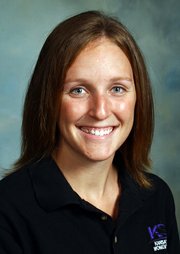 "She's not big, but she's a fighter, and that's one of the things you always need in this sport," he said.
After missing the first half of her sophomore year with a knee injury, Hauver returned in the spring of 2004 with a vengeance. She secured the bow seat (first seat) on the First Varsity Eight boat and helped the Wildcats place 10th at the Central Division Championships.
As a junior, Hauver got even better. She opened the year at the Head of the Des Moines by placing second with the First Varsity Eight and first with the First Varsity Four. Later that season she helped the Varsity Eight place fourth at the Head of the Iowa. She then helped the Wildcats upend Kansas in the annual Sunflower Showdown when her Varsity Eight boat cruised to a 3.3-second victory over the Jayhawks.
GRAND FINALE
Rowing puts a lot more wear and tear on the body than one might imagine, Hauver said. She described the strain rowing causes as "kind of like doing a safe squad or an overhead clean every stroke."
Just as excessive weight lifting can cause injuries, so can rowing. That certainly has been the case for Hauver. In addition to having knee surgery as a sophomore, her back began wearing down during her junior season. The back pain continued during her senior year, but she pushed through it and turned in her best season as a Wildcat.
Hauver was a mainstay on the First Varsity Eight, and she helped K-State to numerous high finishes during her senior campaign. Among them, the Wildcats tied for second at the Big 12 Invitational and then tied for seventh at the NCAA Central Region Championships on May 14 at Melton Hill Lake in Oak Ridge, Tenn. The seventh-place finish was KSU's highest finish ever at an NCAA regional event in the program's 10-year history.
Hauver said she was proud of what she helped Kansas State accomplish during her college career. She said the Wildcats' success at the regional and national level was impressive considering they've built their program mostly with inexperienced rowers. That's a major contrast from veteran rowing schools on the East Coast.
"It's intimidating walking into that knowing that they were recruited from Sweden or Canada or something like that, but we put in the time and the training and have built our bodies to be good," Hauver said. "We start out with athletic bodies because people have done basketball or track or whatever, and you just kind of teach them the technique for rowing.
"With what we've been able to do, it's kind of like, 'You'd better watch out, because we're coming and we can prove ourselves.'"
Giving Back
Although her college career is over, Hauver isn't ready to leave rowing behind. She will stay on scholarship at K-State next year and apply to physical therapy school. In her spare time, she said she will be a volunteer assistant coach for the Wildcats.
Sweeney said he was excited to know Hauver would still be around his program, even if she wouldn't be there as a competitor.
He said he didn't know how she would do as a coach, but he was eager to find out.
"Sometimes it's a little bit harder to (coach) compared to when you're doing it yourself," Sweeney said. "I think she's got a good attitude. It'll be interesting to see how she does."
Regardless of how her coaching experience pans out, Hauver said she is excited to stay close to her rowing friends for another year. After all, she said, it was the rowers that made her college experience so memorable.
"(If not for rowing), I probably would've had much fewer friends in college," she said. "Maybe I would've had three or four close ones and I would've met them through my dorm, but now I have like 40 that I can lean on in pretty much any situation."