Fuel prices test agencies' budgets
Fuel price instability poses a sizeable challenge for local officials with budgets for 2007 nearing deadline.
While members of the public devise strategies to squeeze every last drop out of their gasoline tanks, government officials like Mike Smith are working to keep municipal fuel consumption from squeezing every last cent out of the city budget.
"We'll have to admit it no doubt," Smith said about the stress that rising fuel prices have on the city's budget, but he added that "first priority is the part out there."
Areas of government most affected by fuel prices are emergency services. Police, fire and ambulance services log a lot of miles throughout the year, and while there are a few tasks that can help conserve gas, expenses have skyrocketed in the past several years. Smith, who must submit the city's budget on Aug. 1, said he simply has to overestimate for fuel.
For Lansing Police Chief Steve Wayman, it comes down to priorities. At the end of the day, unless the public is willing to sacrifice safety, it's an expense that Lansing residents must bear.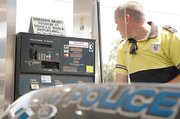 "The bad part of the job we do is that we have to be from 'point A' to 'point B' in different areas," Wayman said. "In the long run what it ultimately affects is the taxpayer."
There are some strategies that Wayman has asked his patrolling officers to try, such as doing more stationary radar, parking in the shade and trying to use the air conditioner as little as possible. But even the most fuel-frugal patrol officer would be unable to conserve enough to offset the cost of simply running the cars, which are loaded with heavy instruments and equipped with large engines.
For a department that logged 171,000 miles on its vehicles in 2005, if gasoline prices continue to rise, Wayman said, it could change the way the department functions.
"If gas prices went super-critical, you'd probably have to really restrict your mobile patrol and they would just respond to calls."
Schools
There's little that Lansing School Superintendent Randal Bagby can do to economize school buses however. Each day the children of Lansing climb aboard the yellow buses, the district spends a lot of money for gasoline. Though the Lansing district contracts out its school bus service, the district hasn't escaped the havoc that rising fuel prices have caused.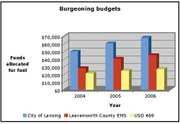 "It is a concern because with our (school bus) contract we do pay for the fuel," Bagby said. "When we prepare our budget, we have to predict what we think the increase will be. There's probably a thousand things we do just to try to keep costs under control."
But it's tricky for the school district because of the nature of school finance law, Bagby said.
"We don't actually prepare the budget, nor know how much revenue we're going to have until mid-July, early August," Bagby said.
Offering the district one slight sigh of relief, however, is the efficiency of school buildings, which were outfitted to provide cost-effective climate control and thus are safer from the whims of rising natural gas and electricity prices.
"This district invested a lot in the buildings with lighting and climate control, to help control the costs," he said.
EMS
One section of local government that may be hit the hardest is Leavenworth County Emergency Medical Services. Powering heavy ambulances around the county burns a lot of fuel, particularly since the supplies on board must be kept at a constant temperature.
"These ambulances have to maintain a certain temperature throughout the year because of the equipment and medicine inside," said Jamie Miller, director of Leavenworth County EMS. "Unfortunately that's the nature of the beast with our vehicles.
"It is hitting us pretty hard."
And while the diesel engines that power the vehicles are relatively efficient, fuel-saving measures like those employed by Lansing Police are not applicable to ambulance services, which already operate primarily as a response-only service.
Leavenworth County Commissioner Clyde Graeber said that right now, the county was willing to take the hit to shoulder the extra expenses. The commission, he said, is not willing to reduce the coverage provided by EMS to lower the department's expenses.
And since there are currently no hybrid alternatives for police cruisers or ambulances, according to Wayman and Miller, for the time being, it's a just a burden to be borne. Miller sums up the matter for the several departments rather succinctly.
"You have to do it. You have to get the service calls. You have to transport," he said.