Fundraiser to benefit Meals on Wheels program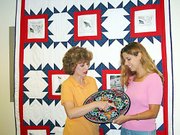 The red, white and blue quilt stitches together a tribute to the American flag.
The flag quilt, made by Lansing resident Lula Dillon, was a labor of love about three months in the making.
Now, it's going to a cause that she loves.
Dillon donated the quilt for a silent auction next month that will benefit the county's Meals on Wheels program.
The program's first-ever benefit auction will help support a program that serves meals to seniors throughout Leavenworth County, said Julie Angello, nutrition coordinator who has directed the Meals on Wheels program for nine years.
Along with the flag quilt, the July 7 auction will feature a range of items donated by individuals and local businesses.
The items include framed oil paintings, crystal, an autographed picture of University of Kansas basketball coach Bill Self, clothing, bird houses, jewelry, yard and garden decorations and sale of an artist's time to do a pencil sketch of the successful bidder's home.
There will be something of interest to all ages, said Patty Willmeth, social services representative and educational coordinator at the Council on Aging. She hopes the event will draw at least 100 people.
The benefit event at the Riverfront Community Center in Leavenworth offers more than the silent auction a dinner and entertainment also are on tap, Angello said.
Entertainment includes music, singing and an organ grinder. Advance tickets are $8 for adults, $7 for seniors over age 55 and $4 for children under age 6. Ticket prices at the door are $9 for adults, $8 for seniors over age 55 and $5 for children under age 6.
Adult and senior tickets will give purchasers a $1 bonus buck to be used at the silent auction.
Silent auction viewing begins at 5:45 p.m. and the dinner starts at 6:30 p.m.
It's a worthwhile cause, Angello said, because of the ever-increasing need for the program's services.
"It helps keep us growing strong," she said.
The meals program, Angello said, now provides about 250 to 300 meals a day to seniors in the county, including about 20 to 25 homebound residents of Lansing.
The program requests a donation of $1.50 for meals, but no one is denied who can't make the donation, Angello said.
That means contributions are crucial to support the program, which is where the silent auction comes in.
For her part, Dillon is just happy to make a contribution to a program she says is important to seniors.
The idea for her quilt came when a friend at the nutrition center read a poem titled "Old Glory." It's one of three poems incorporated in the flag design along with scenes of flag history.
She said she hoped the quilt's patriotic theme would serve to "bring more loyalty" to our troops now at war.
Although it's now a centerpiece of the benefit, Dillon's not about to predict what her quilt will bring at auction.
"I'm no good on pricing," she said.