GOP

hopefuls appear at forum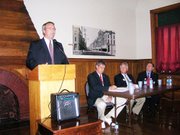 Where immigration and abortion are concerned there's not a whole lot of disagreement among the Republican gubernatorial candidates attending a candidate forum this week in Leavenworth.
The forum, conducted Tuesday at the Riverfront Community Center, featured five of the seven Republican candidates for Kansas governor, State Sen. Jim Barnett, Emporia; former Rep. Rex Crowell, Longton; Ken Canfield, Overland Park; former House Speaker Robin Jennison, Healy; and Tim Pickell, an attorney from Prairie Village.
Each of the candidates spoke on a variety of issues, including education, economic development, abortion and the Kansas Supreme Court's power.
During the audience-question portion of the forum, candidates were asked about granting rights to illegal immigrants and possible penalties imposed on those who employ illegal immigrants. All five candidates said they would veto legislation granting illegal immigrants any special rights.
Canfield, who operates a national institute for fatherhood, answered first and said the candidate who could answer this question responsibly would become the next president of the United States. He said he would veto any legislation that would grant illegal immigrants something they have not earned and he would reverse the current state law that offers in-state tuition for children who have graduated from a Kansas high school but whose parents are illegal immigrants.
Barnett said he also would veto any legislation granting special rights to illegal immigrants, and he added businesses should be held accountable if they hire illegal immigrants.
Crowell said the immigration problem was "not black and white," and the way to get at the problem is to impose penalties on those employers hiring illegal immigrants.
Jennison said he would veto any legislation granting illegal immigrants special rights, as well.
Pickell said immigration was a "thorny federal issue." He noted the dilemma of punishing employers that use illegal immigrants since a crackdown could force their to temporarily shut down.
Another audience question probed the candidates' stance on late-term abortions. All five candidates said they were pro-life and would sign bills opposing late-term abortions if such bills ever came across their desk.
The five candidates in attendance, plus Dennis Hawver of Ozawkie and Richard Rodewald of Eudora will vie for the nomination in the GOP primary on Aug. 1. The winner of the primary will face incumbent Gov. Kathleen Sebelius, a Democrat, in the Nov. 7 general election.
After the program, County Clerk Linda Scheer was in attendance to demonstrate the county's new touch-screen voting machines.