Maturity helps Cubs stay hot
Michael Smith's recipe for forming this year's Lansing Cubs was a bit unusual.
Take a few old veterans who haven't played baseball in a year. Mix in a few young guys who still are learning the game. Then, throw them on a baseball field together and see what happens.
Initially, it appeared Smith's blend was a recipe for disaster. Even though the Cubs' veteran players regained their form quickly, the team still struggled to a 1-7 start. Since then, however, the Cubs have been red-hot in winning seven of their last eight games.
"It's just a matter of familiarity with your position and familiarity with your teammates, and now it's starting to show," Smith said.
After looking like a team that hadn't played together before during its first few games, the Cubs have adopted the look of a veteran club during recent outings. They piled up more stolen bases than hits as they strung six victories in a row against the Easton Bandits, Tonganoxie and the Riverbats. They then shook off some serious adversity Tuesday against Geiger Ready-Mix. Geiger claimed a 9-0 victory in game one as Cody Mohan had Lansing's only hit. In game two, however, the Cubs turned the tables with a 9-7 come-from-behind victory.
The Cubs (8-8) pounded 10 hits in the nightcap, and they did it despite not having veteran starters Lonnie Hansen and Matt Mowery in the lineup. Conn Blakley threw a complete game and struck out 10. Mohan went 3-for-3 at the plate. Blakley and Levi Riddle had two hits apiece. Even the defense did its job. Second baseman Ezra Carpenter turned in two difficult plays - he fielded a ground ball deep in the gap and also played a bad hop perfectly - that ended Geiger's last-ditch effort to come from behind.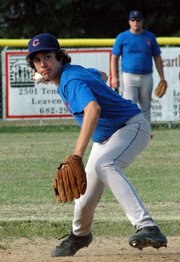 "We made plays. That was the biggest thing," Blakley said. "We didn't make them all, but the key ones we needed, they were there. Ezra made two terrific plays in the last inning. He came out with some heart there. And we were getting hits and putting it in play."
Blakley said the Cubs were playing better baseball because they finally were comfortable playing together.
"Those first few games nobody knew anybody," he said. "We didn't know what was going to get a person down. We didn't know how to work with each other. Now we know how to work with each other, and we're having fun."
Another key factor in the Cubs' winning streak has been the contribution of the younger players. They were forced to elevate their game Tuesday with Hansen and Mowery out of the lineup, and they rose to the challenge.
"We know that we're going to have to step it up eventually because they're not always going to be there," Carpenter said. "This is the last year for a lot of them, so we need to step up now and show coaches that we can play."
The Cubs will have to wait another week before they play again. They are off for the Fourth of July holiday, so their next game will be Thursday, July 6, when they play the Easton Outlaws at 6 p.m. at Lansing High.
For his part, Carpenter said he'd prefer the Cubs not have a layoff before playing the undefeated Outlaws (14-0).
"Baseball's baseball," Carpenter said. "I love to play. Especially when we're winning like this. But we'll practice, we'll get better and we'll come out ready to play our next game."
After Thursday, the Cubs and Outlaws play again July 9.