Reds go 0-6 in Lawrence, turn focus to 3&2 Tourney
Lansing Reds baseball coach Troy Andrews knew his team would have to play its best games of the season if it hoped to bring home a few wins from the Lawrence Tournament.
The Reds were good at times, but never enough to pull off any victories. They finished the tournament 0-6 and dropped their overall record to 3-20.
"There's an old saying that losing is contagious, and that's a very true fact," Andrews said. "Something goes bad and it's like, 'Here we go again. We're going to lose another game.' But winning also is contagious. If you get down and you have a bad inning, you say, 'We're going to turn this around and do things to win this ball game.' That's a hard thing to change, and that's just a mental process. Hopefully we'll turn the corner."
Andrews thought the Reds had turned the corner a week ago when they strung three victories together and placed second at the Belton Tournament.
The Reds rolled into Lawrence on Thursday and opened the tournament with the Lawrence Mavericks, a team composed mostly of players from Lawrence High School. Kris Hernandez started on the mound for the Reds and pitched a solid game. A few late-inning miscues and a lack of timely hitting allowed the Mavericks to steal a 7-4 victory.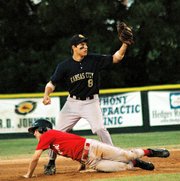 "We started out with a really good Lawrence High team and played really well," Andrews said. "We were coming off some wins, and they played really well against a good team. Then, all of a sudden, it just kind of fell apart."
The Reds dropped additional games to the Lawrence Renegades, the Kansas City Bombers, Millard (Neb.) North, Omaha Westside and Topeka.
"We'd have one or two bad innings and give a team six outs in an inning or seven outs in an inning," Andrews said. "You can't do that and expect to score enough runs to keep up."
The Reds return to the diamond for another tournament tilt beginning Friday when they play a tournament at Johnson County 3&2. Other teams in the tournament are the Shawnee Slam, the Olathe South Junior Varsity, the Overland Park Yankees, the Lee's Summit Pirates and the Shawnee Mission South Junior Varsity Raiders.
Andrews said all of the opponents in this weekend's tournament would be new. He said that was a good thing.
"That's kind of nice, because when you go to a Lawrence tournament again and you see those same teams you had problems, with, you already start off on a negative note," Andrews said. "When you go to a tournament and you haven't played anybody before, it's a clean slate. You don't know anything about them and they don't know anything about you, so you just go out there, play the game and hopefully get things going in a positive direction."